"Star Wars" merchandise is some of the most popular and coveted among all fandoms, and as the release of "Star Wars: The Last Jedi" draws near, so do more goodies that fans can buy. But not all merch makes sense, and even Disney can steer an iconic brand like "Star Wars" to the Dark Side of branding.
Here are some of the most astonishing, exciting, and downright head-scratching "Star Wars" branded products you can spend your galactic credits on:
Dole
Fruit is fruit, and generally the most important criteria when stocking up on produce is ripeness and price. Dole and "Star Wars" have partnered for a "Unite for a Healthy Galaxy" sweepstakes that includes prizes and an app that allows customers to scan special packaging for access to exclusive content and recipes. Which means that "Star Wars" lettuce is now a real thing that exists.
I was willing to store that C-3POs box in my garage for 30+ years because cereal is immortal — but I may finally have to draw the line at Star Wars brand lettuce. pic.twitter.com/RAuPk9Qohn

— John Jackson Miller (@jjmfaraway) December 4, 2017
Ample Hills Creamery Star Wars 3-Pack
What does evil taste like? According to Ample Hills Creamery, it's chocolatey with an espresso twist. The Brooklyn-based creamery has released three different kinds of "The Last Jedi" ice cream including: The First Order (salted dark chocolate and espresso), The Resistance (brown sugar and vanilla bean with red velvet and butter cake chunks), and the Force (sweet cream and chocolate fudge swirl with white and dark chocolate pearls). Ice cream is great, but does the exclusivity warrant a $30 price tag?
Samsung Star Wars Limited Edition POWERbot™ Robot Vacuum
Nothing says "I love Star Wars" like the severed head of Darth Vader rolling around on your carpet sucking up crumbs. According to a press release, this Samsung vacuum was designed, produced, marketed, and distributed with input from super fans. It comes complete with "Star Wars" sound effects and a whopping $600 to $800 price tag.
Nissan
Following in the footsteps of their "Rogue One" partnership, Nissan unveiled seven different "Star Wars"-themed vehicles at the L.A. Auto Show. However, unlike last year's "Star Wars" Edition Nissan Rogue, which could be purchased by consumers, this year's cars are strictly promotional and not available for purchase. That being said, Nissan is sponsoring the "Droid Repair Bay" virtual reality experience.
Cargo Cosmetics
Let your eyeshadow tell the world which side of the Force you fall on. Cargo Cosmetics released a line of fancy makeup including Light Side and Dark Side makeup palettes (which run from $20 to $28). And in exciting spoiler news, apparently the folks at Cargo have uncovered the actual color of the Force (surprise, it's blue) thanks to a branded nail line with the names, "restore the republic" (silver), "praetorian guard" (red), and "rule the galaxy" (gold).
Columbia Echo Base Collection
Columbia has recreated the hot looks of planet Hoth from "The Empire Strikes Back." Dotted with references to the film, the Omni-Heat insulation promises to keep fans "warmer than a Tauntaun." And it better because the jackets also come with a $400 price tag.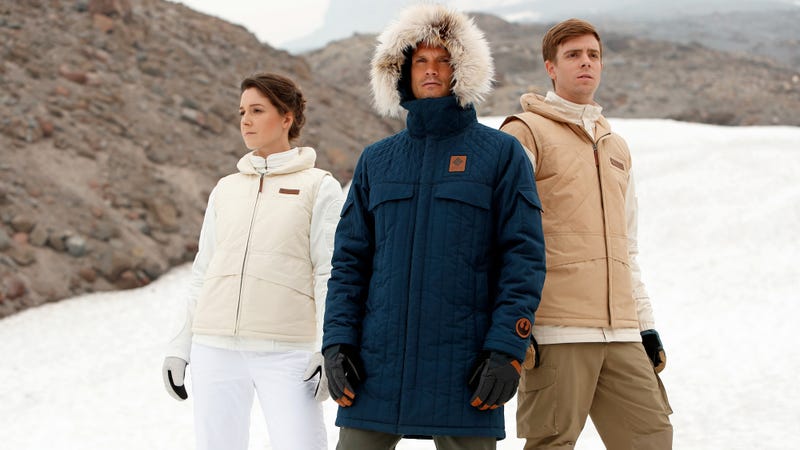 Cross Star Wars Collection
These are Han Solo, Boba Fett, and Chewbacca pens that range from $450 for a roller ball and $575 for fountain pens. A pen.
Philips Norelco Shavers
Aside from the color patterns, small symbols and increased price tags, the limited edition "Star Wars: The Last Jedi" shavers are indistinguishable from the normal line of shavers and the only way to tell that they were Star Wars branded is if you knew what to look for or if someone bragged to you about owning one. Philips released a line of four different shavers inspired by Stormtroopers, R2-D2, Poe Dameron's X-Wing ship, and by the Dark Side ranging in price from $50 to $260.
Rag & Bone Collection
Luxury fashion line Rag & Bone released a "Star Wars" inspired collection with sneakers, purses and a whole Hoth chic ensemble. Although the collection was only released to the public on December 1, most of the items have already sold out including a Darth Vader and Luke Skywalker business card cases for $150 and Empire and Rebellion inspired boots for $695.
Christian Louboutin Heels

Famed designer Christian Louboutin collaborated with "Star Wars" to create a set of five one-of-a-kind shoes based on the women of "The Last Jedi." The line will never be available to the public and will be auctioned off for charity.
Porgs
If you thought BB-8 was a charmingly diabolical cash grab, wait until you get a load of the Porgs. The fluffy, flying creatures are absolutely everywhere and "The Last Jedi" hasn't even premiered yet.
The aliens can be found on ties, purses, hats and shoes. The Porgs are plushies, Funko figures and December 13 has been dubbed "take your Porg to work day." Truly the power of the Dark Side is strong with these little beasts.
EA's "Star Wars: Battlefront II"
This list would be remiss not to include the most controversial "Star Wars" video game to date, the new "Star Wars: Battlefront II." Disney should have expected problems when they partnered with EA (which was voted the worst company in America two years in a row in 2012 and 2013), especially after the DLC backlash from the original "Battlefront" reboot. "Battlefront II's" microtransactions and loot boxes triggered massive anger among fans, who found the pay-to-win system unfair and blatantly greedy, and are now the center of a potential gambling regulation.