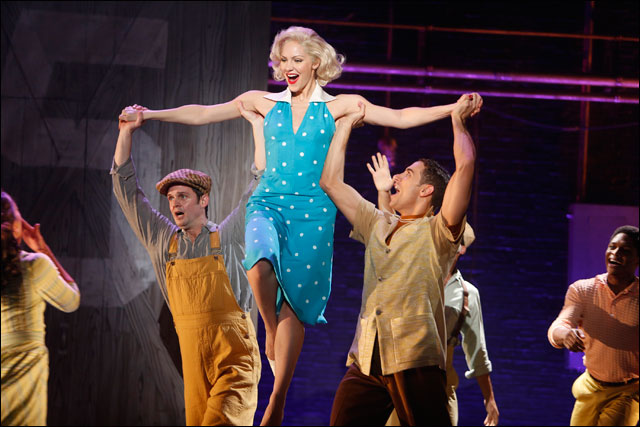 NBC's "Smash" got off to a rough start in its second-season premiere Tuesday night, registering only a 1.1 rating/3 share in the 18-49 demo and 4.4 million viewers overall.
On the upside, CBS' procedural powerhouse "NCIS" drew a 3.7/10, 21m, according to early estimates from Nielsen. With three dramas, the Eye won the ratings race over a "Bachelor"-fueled ABC.
As for "Smash," the Peacock musical series debuted last February with the benefit of coming a night after the Super Bowl and a strong 6.2 lead-in from "The Voice." The show averaged a 2.2 and 5.9 million viewers over the course of the first season. NBC is hoping that live-plus-7 figures will significantly increase totals for the season-two premiere.
Tuesday's lead-in of "Betty White's Second Annual 90th Birthday" (1.5/5.9m) was on par with the other "Betty White's Off Their Rockers" installments of recent past.
"NCIS" was only slightly down from a week ago and spinoff "NCIS: Los Angeles" (3.1/8, 16.5m) was even in the demo but off a touch in total viewers. "Vegas" (1.6/4, 10.2) saw a slight decrease. As is sometimes the case, the CBS shows were the most-watched programs of the night.
Over at ABC, "The Taste" (1.8/5, 5.2m) actually saw a rise in both the demo and total viewers. That provided a solid lead-in for the two-hour edition of "The Bachelor" (2.6/7, 7.7m), which was up slightly compared to Monday's episode earlier this week.
Fox's two-hour comedy lineup was relatively even versus a week ago. Best of the half-hour laffers was "New Girl" (2.5/7, 4.8m) at 9 p.m., with lead-out "The Mindy Project" (1.9/5, 3.5m) second, up 12% from last week and posting a best in the demo in four months.
The network opted to air a pair of "Raising Hope" episodes to lead off the night, a move that was necessitated when Fox canceled "Ben and Kate" several weeks ago. Both episodes were originals, with the first "Raising Hope" (1.6/5, 3.9m) slightly outdrawing the second (1.5/4, 3.5m) a half-hour later.
The CW aired the series finale of hospital dramedy "Emily Owens, M.D." (0.4/1, 1.4m) following a new episode of slightly higher rated "Hart of Dixie" (0.6/2, 1.4m), which matched season highs.
Preliminary 18-49 averages for the night: CBS, 2.8/7; ABC, 2.3/6; Fox, 1.9/5; Univision, 1.6/5; NBC, 1.2/3; CW, 0.5/1.
In total viewers: CBS, 16 million; ABC, 6.9 million; NBC, 4.9 million; Fox, 4.3 million; Univision, 4 million; CW, 1.4 million.