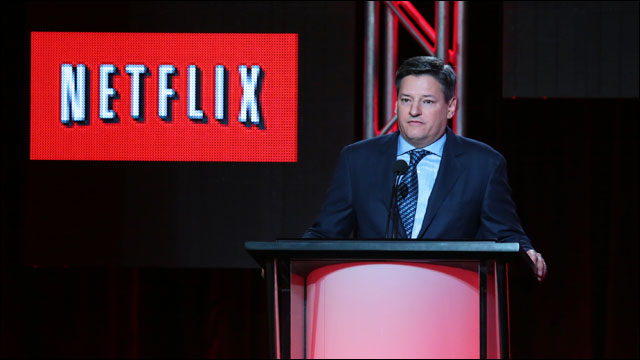 Above: Netflix chief content officer Ted Sarandos speaks at the company's inaugural TCA panel on Wednesday (Photo by Getty)
"We have the opportunity to make history here," Kevin Spacey's character from "House of Cards" said at the end of the sizzle reel that opened Netflix's inaugural Television Critics Assn. press tour session Wednesday.
The message was not lost on the crowd.
In bringing a slate of shows to TCA, the netcaster that has up-ended the rules of the TV biz aims to take its place alongside traditional networks as a purveyor of original programming.
Indeed, the presence of Netflix chief content officer Ted Sarandos at the Pasadena press junket is the most visible sign yet that the subscription giant wants to be seen as a contender alongside the Big Four broadcasters, pay and cable nets — even if Sarandos is still proud of Netflix's status as a disrupter of the status quo.
"We're leading the next great wave of change in the medium of TV," Sarandos told the TCA crowd. "We're not trying to destroy it, but evolve it for the current generation and those to come."
His remarks came hours after FX chief John Landgraf questioned how Netflix could ever "determine if something is a hit," since the streaming service doesn't release its viewer data.
Sarandos didn't hesitate when asked by Variety to respond to Landgraf's assertion: "Why would we do that?"
"I don't know why HBO, Showtime, any of them publish ratings," Sarandos said. "It might be for internal (reasons), or to manage the relationships with cable operators, but we don't have relationships with cable operators to manage. There's no business reason for us to publish ratings other than to create artificial pressure on a show to perform on a short time frame. We don't need to add that to the mix. There's enough pressure in creating television as it is."
Netflix will, however, have its own metrics for judging the performance of its original programming, which is slated to launch between February and May. The David Fincher-produced redo of the Brit political thriller miniseries "House of Cards" kicks off Feb. 1. In keeping with Netflix users' predilection for binge-viewing, all 13 episodes of the show's first season will be made available at once.
"We're going to measure a show's success on multiple metrics, but one of them will not be timeslot viewing. We'll measure viewership over the life of a license and invest proportionately to the payback in terms of customer love of the show — retention, new subscribers, brand halo," Sarandos said. "If people watch it at a certain time, it doesn't matter. It's not our business to attract people at certain times so I can sell them Ford trucks. What John Landgraf is talking about is fine, but that's not our business."
Although Netflix is touting its move into original series with "Cards" as well as Eli Roth's "Hemlock Grove," Jenji Kohan's "Orange Is the New Black," Ricky Gervais' "Derek," and the return of "Arrested Development," Sarandos emphasized that off-network programming and movie licensing will remain key to its programming mix.
Netflix's emergence as a deep-pocketed buyer of high-end skeins has certainly piqued the creative community's interest, for obvious reasons.
"These guys at Netflix are really experimental, fresh thinkers," said "Arrested Development" creator Mitch Hurwitz during his show's panel. "In an early meeting I had with Ted, they said they were going to put a Netflix button on remote controls. And I said, 'Why didn't NBC put a Peacock on remotes?' It's just because NBC predated the remote control. Netflix comes in and looks at it all fresh. So, hey, 'Arrested Development' fans want to watch this with binge-viewing. You've got to follow the audience … we're just embracing it."
The viewer data that Netflix compiled on binge-viewing of old "Arrested" segs made it a no-brainer decision to commit to funding new episodes of the show. It's simple math, per Sarandos.
"We had real, measurable data that proved that the audience for 'Arrested Development' was compounding in the years after it was canceled," Sarandos told Variety . "Even with 'Freaks and Geeks,' the next example I can come up with, the cult following got smaller, even though the passion got deeper. 'Arrested' was actually building an audience. I knew that if we brought it back, we'd be addressing a multiple of its Fox audience, as opposed to a fraction of the audience when it was originally on air."
"Arrested" star Portia de Rossi said she got a firsthand understanding of how Netflix is changing the conventions of TV viewing over the summer when she began watching AMC's "Breaking Bad" via the netcaster.
"I spent the entire summer binge-viewing 'Breaking Bad,' and I loved it," de Rossi said. "It was a new experience. I loved having the control of how I wanted to watch a show, and how many episodes I wanted to watch in a row. … People are used to getting what they want now, and it was great not to have to wait a week to see an episode of something we're really into."