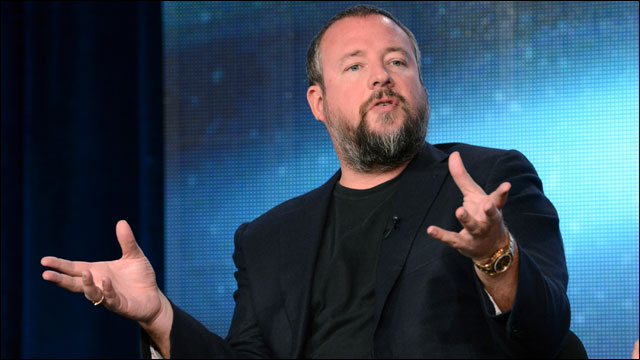 Shane Smith has built a next-generation media company during the past two decades with the edgy hipster lifestyle magazine and online properties managed under his Vice umbrella. Now he's poised to take his company and his own celebrity status to the next level in April with the launch of newsmag-style HBO skein "Vice."
The show adheres to the mantra of covering "the absurdity of the modern condition," Shane told a roomful of traditional journos on Friday as part of HBO's TCA session.
Smith oversees all editorial aspects of the show, serves as host and reported some of its segments, which have taken him to places ranging from the slums of Liberia to the treacherous border between India and Pakistan (the countries "fucking hate each other" Smith tells viewers in the segment) to following North Koreans seeking to escape that country's oppressive regime.
Smith emphasized the company's commitment to what he called "immersion" in a particular region or situation to tell stories with depth and detail. Among the eye-opening subjects "Vice" will cover is the illegal gun factories staffed by children in the Philippines and brothels in China stocked with sex robots.
The Vice brand has made an impact with younger auds because it brings a distinct no-holds-barred approach to storytelling, Smith said.
"Gen Y has grown up with the most sophisticated bullshit detectors around," Smith said. He also stressed that "Vice" has no political agenda, which is something else he said his audience appreciates. "They want someone to strip out all of that (political) stuff and tell the story."
Smith, a burly 42-year-old who is a native of Ottawa, downplays the significance of his rising celebrity to Vice's business. The company has attracted attention from a number of media and showbiz congloms. It counts Tom Freston among its advisors. Bill Maher helped shepherd the newsmag to HBO and has consulted on the show.
"I'm lucky," Smith says of his role as Vice CEO. "We're a real bottom-up company. I get to pick the stories that I want to do and work with all of our contributors to get the best stuff."
Producers have been filming for the HBO series for more than a year. Many of the topics were based on segments that previously generated strong web traffic for Vice online and reader response from its monthly magazine.
"Vice" bows April 5 following "Real Time With Bill Maher."