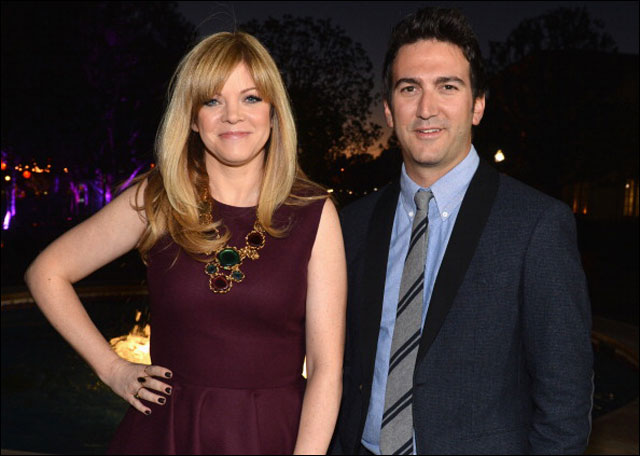 Hyphenates Josh Schwartz and Stephanie Savage are moving down the road in Burbank.
The prolific pair have struck a lucrative three-year production pact with ABC Studios for their Fake Empire banner starting in June. Deal covers the company's overhead and development, overseen by Fake Empire TV head Len Goldstein. Fake Empire was formed in 2010 at Warner Bros., where Schwartz and Savage have been for more than a decade.
The wooing of Fake Empire is another sign of the Mouse House investing in creative talent for its TV studio, which is raising its profile as a supplier to ABC and nets in and outside of the Disney empire.
Schwartz and Savage have developed a niche for producing stylish, younger-skewing hours blending drama and comedy a la Fox's "The O.C.," CW's "Gossip Girl" and NBC's "Chuck." Fake Empire's latest effort, the "Sex and the City" prequel "The Carrie Diaries," bowed earlier this week on CW, where the banner also produces "Hart of Dixie" (now in its second season) and the upcoming midseasoner "Cult."
Fake Empire's milieu is a good fit with ABC's focus on femme-friendly sudsers and ABC Family's interest in reaching teens and twentysomethings.
"Josh and Stephanie have a DNA that is just perfect for ABC," ABC Entertainment Group chief Paul Lee told Variety. "They write television that is emotional and sexy and groundbreaking. We think they're perfect to complement the huge amount of talent that we have on our lot."
Schwartz has been affiliated with Warner Bros. TV for more than a dozen years, since he was fresh out of USC. He first worked with Savage in 2003 on "The O.C.," the show that put him on the map as a wunderkind writer-producer. Savage was a development exec at McG's Wonderland Sound and Vision banner, which produced "O.C." for the studio. Savage soon segued into writing full time and has spent much of the past six years serving as showrunner on "Gossip Girl," which wrapped its six-season run in December.
Goldstein was a longtime WBTV exec who formally joined forces with the pair when they launched the Fake Empire banner with the goal of shepherding projects from other writers as well as those from Schwartz and Savage.
The move to ABC was a momentous decision for the trio, given their deep roots at WB. Fake Empire already has three drama pilot prospects set up at ABC through WBTV, including a legal drama penned by Schwartz and Matthew Miller ("Chuck"). It also has a supernatural drama from Bret Easton Ellis, "Copeland Prep," at CW, and a drama and a family comedy at Fox.
Fake Empire also has a feature production deal with Paramount that is unaffected by the TV shift.
WME repped Fake Empire in the deal with ABC Studios. Schwartz and Savage are also repped by attorney Joel McKuin. Goldstein is with attorney Tom Hoberman.