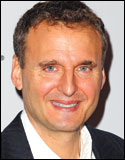 "Everybody Loves Raymond" creator Phil Rosenthal credits his success to an arts education that spanned elementary school to college. He now dedicates his time to making sure that all kids have the same opportunity.
Rosenthal and his wife, actress Monica Horan, support Inner-City Arts, his alma mater Hofstra U. and cancer research through their Rosenthal Foundation.
Inner-City Arts, which gives students of all ages in downtown Los Angeles a chance to experience arts — from music to theater to ceramics — in a way not possible in their schools, is an "oasis in one of the worst neighborhoods in America," says Rosenthal.
"Here in Hollywood, where we literally owe our lives and our good fortune to arts education, it's just as essential to me as breathing to feed (the arts) to people who don't have it," he says.
One of Rosenthal's most prized possessions is a "lopsided cookie jar" he made at Inner-City Arts, which is proudly displayed in his home.
As for college students, Rosenthal's foundation funds a diversity program and awards scholarships for comedy writing and performance at Hofstra.
Rosenthal adds that Horan "deserves the lion's share of this award. I consider myself the studio and she's the showrunner."
WGA Awards 2013
WGA nominees spice up history with diverse approach
HONOREES
Tom Stoppard | Tony Kushner | Phil Rosenthal | Matt Groening | David Koepp | Daniel Petrie Jr. | Akira Kurosawa, Shinobu Hashimoto, Ryuzo Kikushima & Hideo Oguni | Joshua Brand and John Falsey