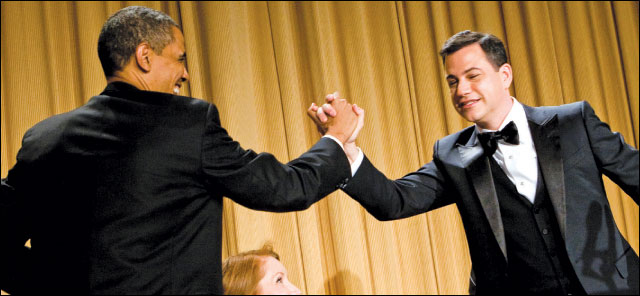 President Obama greets Kimmel at the White House Correspondents' Dinner in April.
What didn't Jimmy Kimmel do in 2012?
Not only did he get engaged, but Kimmel also hosted the White House Correspondents Dinner and fronted the Emmy Awards. Those were in addition to cranking out an hour of latenight TV five days a week with "Jimmy Kimmel Live," whose audience increased in strong numbers.
While there have certainly been adrenaline rushes, the heavy workload took its toil. And with the recent excitement of bringing "JKL" to 11:35 p.m., Kimmel is the first to admit that he's, well, just a little tired.
"I'm busier than I've ever been," he says in a conversation held just a few days after "JKL" began airing in its new timeslot. "I don't thrive on this kind of thing. I wilt under it. It seems like I've been running at 40 miles per hour for the last 11 days in a row, and I'll be honest, I'm looking forward to the weekend."
One of Kimmel's strengths is that he is an average Jim who, like his audience, requires a break at the end of the week. Though his comedy resume might reveal a style more naughty than edgy (he was a co-creator of Comedy Central series "Crank Yankers" and "The Man Show" prior to making the latenight leap), ABC felt he was a great choice to host a latenight talkshow.
"I'm a pretty family-oriented guy. I have family members who work here on the show with me, and not just on the show but behind the scenes. I think they were looking for somebody who would appeal to the regular guy, whatever that is, and decided I would be popular among, I don't know, garbage men."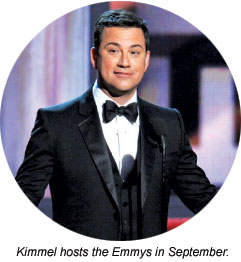 As it has turned out, Kimmel has a much wider reach than trash collectors. "JKL" emerged from 2012 with its best-ever ratings and the only latenight broadcast talkshow to build its overall audience.
Kimmel's star rose considerably last year with the Emmys and White House Correspondents' Dinner, both of which burnished him as a man for all occasions. But, he admits, the dinner and joking about the president, who was on the dais only a few feet from him, was the real challenge.
"At the Emmys, you know the audience. They were mostly people I worked with, and it's almost like doing a plumbers' convention. You can make inside jokes that everyone will get. At the Correspondents Dinner, it's a much stranger mix of people and hard to figure out where to go."
Fortunately, he had his "JKL" writing staff to help him with hundreds of jokes, using only a small percentage of those in facing the likes of President Obama and the White House press corps.
"It paid off because we had a lot of great jokes. I could probably do the next eight Correspondents Dinners in a row without writing a single new joke."
In August he got engaged to Molly McNearney, a writer on the show.
For his part, Kimmel does seem genuinely surprised that he's gotten this far. Making "JKL" unique, he says, "Comes down to me as a person and the people I have on the show with me."
Still, after 10 years, he's made some observations about his role as a host and interviewer. Most importantly, while the show's jumping off point may be his personality, the show itself is not actually about him.
"I'm not a comedian on the show," he says. "I'm a talkshow host. I'm there to let people get laugh, not to top them or try to compete with them. The truth is it doesn't matter who's funny on your show. If someone's funny, then ultimately you've won."
It seems success going forward won't spoil Kimmel. He's never had any sense of what it was supposed to look like in the first place.
"For me it's a matter of not drowning every day."
Jimmy Kimmel Live @ 10
Midnight maven Kimmel moves up | Top moments on 'JKL' | Kimmel doesn't get caught up in ratings race | Eric Stonestreet on Kimmel | Ben Stein on Kimmel | KROQ DJ Bean on Kimmel | Politics, Primetime Emmys just part of busy year
Watch Jimmy Kimmel receive his star on the Walk of Fame