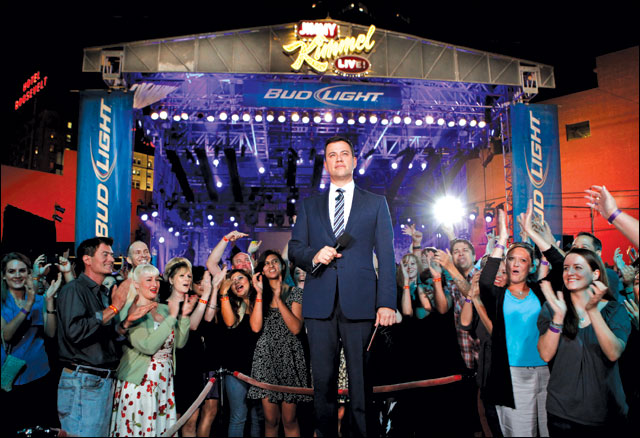 Shifts in latenight are far and few between, so when "Jimmy Kimmel Live" moved to 11:35 p.m. on Jan. 8., even those who don't stay up past 10 o'clock took notice.
Aside from the debacle when NBC gave "The Tonight Show" to Conan O'Brien from Jay Leno and then took it back, the "JKL" move was the biggest scheduling news in latenight since the early 1990s when Leno inherited Johnny Carson's mantle on NBC and David Letterman moved his program to CBS.
5 things you didn't know about Kimmel
1. He's a cooking enthusiast and has a pizza oven and meat smoker at his home, regularly entertaining for 100-150 people, and is especially partial to Italian food. Kimmel makes a mean thin-crust prosciutto pizza with dough from scratch.
2. Like David Letterman, he's a fly-fishing lover and enjoys traveling to Montana and Utah to partake in what he considers a very soothing, relaxing sport — so much so that he has a mock fly fishing pole in his office.
3. Kimmel owns a "tread-desk," a desk and a treadmill. Because he works all hours and doesn't get to exercise much, he reviews email and jokes while using it in his office.
4. He is an excellent sketch artist, doodling and drawing characters, including staffers. As a kid, he drew a series of superheroes he created.
5. He invests much of his free time tracking down extremely thoughtful and useful gifts for friends and family. Known to be outrageously generous, he orders things online at all hours of the night.
While the ratings have been strong since the start, Kimmel believes "JKL" will be a longterm good fit in the new timeslot, with all auds of all type being satisfied by the different comedy offerings.
"Television is so different now. There's almost no such thing as mainstream any more. You can do a show that isn't overly broad now and draw a good-sized audience," Kimmel says. "Johnny Carson had 17 million-20 million people watching his show every night. Everything has been splintered and for someone like me that's good."
Kimmel has spent 10 years honing his comedy chops during the midnight hour on "JKL," which premiered in 2003. He has kept his success in the family, featuring a host of sidekicks such as his late uncle Frank, his aunt Chippy, his cousin Sal and the parking lot security guard Guillermo, all to the accompaniment of house band Cleto and the Cletones.
With the exception of a commercial break being inserted into what was previously a long first comedy block before the initial guest appeared, the show will retain its signature elements. The time change comes down to one basic thing for Kimmel: A larger audience that will expand "JKL's" reach.
"When you have more people watching you're able to do more things," he says. "You're able to get higher-profile celebrities on the show and you're able to book politicians that we wouldn't have been able to get in the past. It raises the profile of the show in general.
"When you work on stuff you want as many people to see what you're doing as you can get. Being on at 11:30 as opposed to midnight is a big difference because people tend to fall asleep after midnight."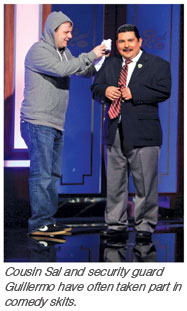 "JKL" is the longest running latenight talkshow in ABC history, far outlasting "The Dick Cavett Show" (1969-75) and "Politically Incorrect," which ran from 1997 to 2002.
The Alphabet is in it for the long haul with Kimmel, positioning him to be the latenight comedy leader when Letterman and Leno eventually are replaced.
"He's put years of work into it. We think he'll bring a fresh outlook that's very different and it's a great opportunity to see another type of programming," says Paul Lee, president of ABC Entertainment Group. "We would like to see him over time bring in a new audience as they start to see him as a direct competitor."
"ABC has been won over by him," says Bill Carter, New York Times television reporter and author of "The Late Shift" and "The War for Late Night." "He has a year or two to put roots down. He could be there a really long time. Jimmy has a real window. Jay and Dave have been around forever, so it's a big opportunity for him."
With Kimmel's entry into the 11:35 timeslot — and strong lead-ins from ABC stations' late local newscasts that are often market leaders around the country — the competition is unlikely to adjust its content.
"I don't think they'll be reactive," says Brad Adgate, senior VP and research director at Horizon Media. "They have a formula and a lot of loyal viewers and won't risk alienating their core audience to tackle a third entry."
The Kimmel staff, numbering more than 200 and based at studios on Hollywood Boulevard, is ready to meet the challenge of the show's higher profile.
"Our goal is to do the best job and make the funniest, strongest and tightest show," says exec producer Jill Leiderman.
She notes that even with the earlier tape time of 6 p.m. — the show previously shot at 7 — "Jimmy Kimmel Live" records later than the competition, enabling it to include more topical information.
But what is it about Kimmel himself that makes him such a force in latenight? Perhaps a co-worker, and family member, summed it up best.
"Jimmy has legitimate respect and appreciation for the position of latenight talk show host. Jimmy has an intense work ethic that's unmatched in this industry," says Cousin Sal. "Most importantly, Jimmy has pictures of high-ranking executives drunk planking in the nude at last year's ABC upfront presentation."
Jimmy Kimmel Live @ 10
Midnight maven Kimmel moves up | Top moments on 'JKL' | Kimmel doesn't get caught up in ratings race | Eric Stonestreet on Kimmel | Ben Stein on Kimmel | KROQ DJ Bean on Kimmel | Politics, Primetime Emmys just part of busy year
Watch Jimmy Kimmel receive his star on the Walk of Fame