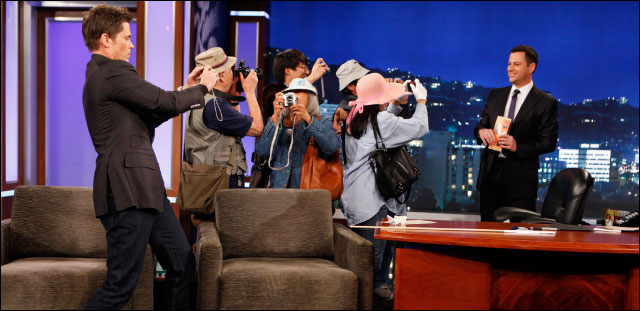 The fierce competition for supremacy in latenight just got more heated with the addition of ABC's "Jimmy Kimmel Live" to the 11:35 p.m. comedy terrain.
Long dominated by NBC's "The Tonight Show With Jay Leno" with CBS' "Late Show With David Letterman" nipping at its heels in both total viewers and the 18-49 demo, and "The Colbert Report" on Comedy Central attracting a sizable cable audience in the timeslot, "JKL" is expected to bring its younger demographic to the 11:35 network three-way fray.
The show got off to a terrific start after launching Jan. 8. "JKL" averaged a series record 3 million viewers that week and it's best 18-49 demo in nine years.
"We felt Jimmy was on a roll, and we've had an ambition to go for a younger audience. He brings that," says Paul Lee, president of the ABC Entertainment Group.
"JKL" Ratings"
ABC's latenight show has been incredibly consistent in drawing auds since launching in 2003. Shift to 11:35 p.m. will likely generate even higher ratings.

Year

Total Viewers

2003*

1.6 mil

2003-04

1.5 mil

2004-05

1.4 mil

2005-06

1.6 mil

2006-07

1.7 mil

2007-08

1.6 mil

2008-09

1.6 mil

2009-10

1.6 mil

2010-11

1.6 mil

2011-1

1.7 mil

2012**

1.9 mil
"We felt it was the right time to bring those advertising dollars to 11:35. We know and appreciate the two major competitors are established latenight titans. It's going to take a long time to take them, and he wants to reel them in over time," he says.
Says Kimmel of the impressive first week: "That has been a surprise. I presumed we would do well our first night, but I did not imagine that our audience would grow. I would not be surprised if it doesn't last."
He added, "I honestly think ultimately we'll wind up being the No. 3 talkshow. These are shows that have been on for a long time. You can't discount the legacy 'The Tonight Show' has and how ingrained it is in Americans and their habits, so No. 3 is fine with me. We were No. 1 the first night but don't get used to it."
During the 2012 calendar year, "Tonight" led in total-viewer margin over "Late Show" (3.4 million vs. 2.8 million), and in 18-49 (1 million vs. 876,000) according to Nielsen.
For 2012's fourth quarter, "The Tonight Show" topped Letterman with a slimmer lead of 3.4 million vs. 3 million while Kimmel capped the year with its most watched quarter in its 10-year history, averaging 1.8 million total viewers at midnight, up from 1.7 million during the last quarter of 2011.
The new timeslot also means there could be bumps in the road when it comes to booking guests now that "JKL" is on opposite "The Tonight Show."
"I'm sure it will be more complicated because in the past we were glad to follow Leno so when people were in L.A." they could do one show and then another, Kimmel says. "Now it makes it weird because we can't follow him. At the same time, I would imagine we'll have to be somewhat patient and publicists will have to spread things around to be fair."
The Alphabet's 33-year news vet "Nightline," which is being moved an hour later to accommodate "JKL," handily won the 11:35 p.m. slot during 2012's fourth quarter with 3.8 total viewers, although industry insiders say that measurement bears closer scrutiny.
"It's not fair to compare," says Bill Carter, New York Times TV reporter and author of "The Late Shift" and "The War for Late Night." " 'Nightline' is half an hour and you only measure to the end of the last national commercial, which is 17 minutes in on 'Nightline' compared to 45 minutes in on Leno and Letterman."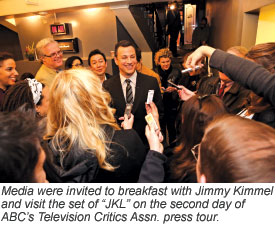 The new latenight competition was a hot topic at the recent Television Critics Assn. semi-annual press tour, where NBC execs downplayed Kimmel's move.
"The reason we're not that concerned is because of Jay's legacy all these years, certainly opposite Dave," said NBC Entertainment chairman Bob Greenblatt. "From 12 to 12:30 Jimmy and Jay already are in competition with each other, and Jay virtually always beats Jimmy."
Kimmel says he never asked for the 11:35 p.m. timeslot but he made it known long ago ("Probably the first night," he says) that he felt ready for the move. When Ted Koppel left "Nightline" in 2005, Kimmel says he started to seriously consider the possibility of an earlier timeslot.
Of taking the longtime "Nightline" timeslot, Kimmel says moving in on the newsmagazine's turf many years ago would have been unheard of.
"He was Ted Koppel, you wouldn't even consider replacing him. Then when they make changes in latenight, you start to think about those things," Kimmel says. "With that said, I was very happy to be in my timeslot for 10 years. It allowed me time to develop the show."
With the headlines announcing Kimmel's relaunch, the host is enjoying the renewed interest in the show, including a best-of-luck call from new competitor David Letterman as well as an email from "my ex-boyfriend Ben Affleck" and gifts from other celebrities.
"I have a lot of thank you notes to write. This is one of the hidden bonuses: I got a beautiful bouquet of roses from Gwen Stefani," Kimmel says. "Even the guys who come up to my office are like, 'Those are really beautiful.' "
Jimmy Kimmel Live @ 10
Midnight maven Kimmel moves up | Top moments on 'JKL' | Kimmel doesn't get caught up in ratings race | Eric Stonestreet on Kimmel | Ben Stein on Kimmel | KROQ DJ Bean on Kimmel | Politics, Primetime Emmys just part of busy year
Watch Jimmy Kimmel receive his star on the Walk of Fame