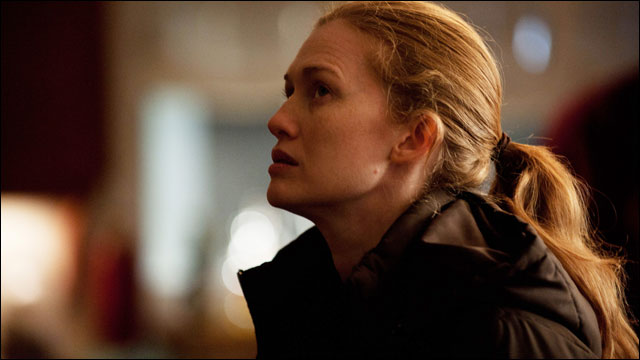 AMC made it official Tuesday: "The Killing" is returning for a third season.
As first reported by Variety in November, the dark murder mystery series from Fox Television Studios will come back with stars Mireille Enos and Joel Kinnaman. Veena Sud will also return as showrunner.
Sud and fellow exec producers Dawn Prestwich and Nicole Yorkin went back to the writers' room late last year to begin work on the third season.
The new season, which will go into production in late February in Vancouver, is likely to start in late spring or early summer.
The show was canceled by the network in July after two seasons but is coming back with the possible backing of Netflix, which has shown an interest to stream the series after or during AMC run. Those negotiations are ongoing, and the release pattern of how Netflix would stream "The Killing" remains to be seen.
Said Fox TV Studios president David Madden: "We have always believed in 'The Killing' and remain extremely proud of it, which is why we all worked so hard to find a scenario that could give it new life."
Added Sud, who was under much scrutiny the way season ended without a resolution to who killed a high school teenage girl: "To the fans that have supported the series, thank you for doing so. My team and I will work hard to deliver the best story that we can for season three."
WME, which recently signed Sud, was said to be instrumental in getting "Killing" back on the air. The show, based on a Danish format, ended its second season ended in June with only 1.9 million viewers tuning in.