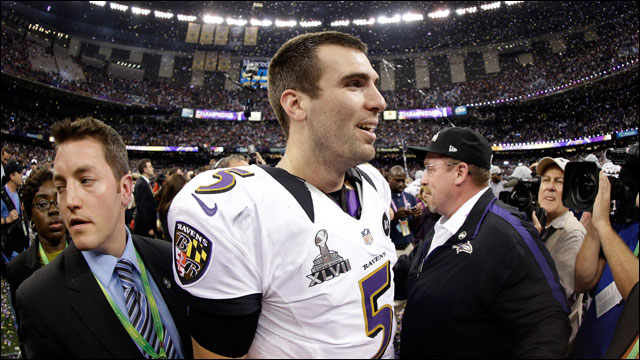 Above: Baltimore Ravens' QB Joe Flacco dropped an F-bomb while celebrating his team's Super Bowl XLVII victory on CBS. (Photo by Getty Images)
When CBS' microphones picked up Baltimore Ravens' Joe Flacco's f-bomb following his team's Super Bowl victory, the result was a not-too-surprising FCC complaint from a parents org.
Less predictable is what, if anything, agency regulators plan to do about it.
The FCC has a backlog of complaints — by some estimates they were once up to 1.5 million — and has been whittling them down by dismissing many for a variety of reasons, including that the objectionable material happened after 10 p.m., where broadcasters are largely immune, or that it occurred on cable, outside the scope of the agency's authority on these issues.
FCC chairman Julius Genachowski has shown little interest in making broadcast indecency a priority, other than defending the agency as the issue of so-called "fleeting expletives" as it made its way to the Supreme Court. Although the high court last June ruled in favor of Fox and ABC over a series of FCC actions in the middle of the last decade, Chief Justice John Roberts made it clear that "the brevity of an indecent broadcast — be it word or image — cannot immunize it from FCC censure." One reason there has been such a backlog of complaints is that action was put on hold until the legal issues were resolved.
Nevertheless, the FCC has not issued any kind of sanctions since then, nor has it proposed any revision of its rules.
There's speculation that Genachowski will "run out the clock," in the words of Dan Isett, director of public policy for the watchdog org Parents Television Council, which filed the latest complaint over the Super Bowl expletive.
Given the past history tenure of FCC chieftains, Genachowski is expected to step down in the first half of this year, although he has made no announcements.
"It is going to continue to remain a front-burner issue," Isett added. "It is a shame the FCC has wasted so much time."
He added that it is likely that the issue of broadcast indecency will come up at confirmation hearings of Genachowski's successor.
A CBS spokesman said that network stations received "just a handful" of complaints about the fleeting expletive.
Given the huge viewership of the Super Bowl, and the fact that the outcry over Flacco's foul language is just a sliver of what followed Janet Jackson's Super Bowl wardrobe malfunction in 2004, it seems the drive to curb primetime profanities is in a bit of a lull, or has been reduced to a whimper.