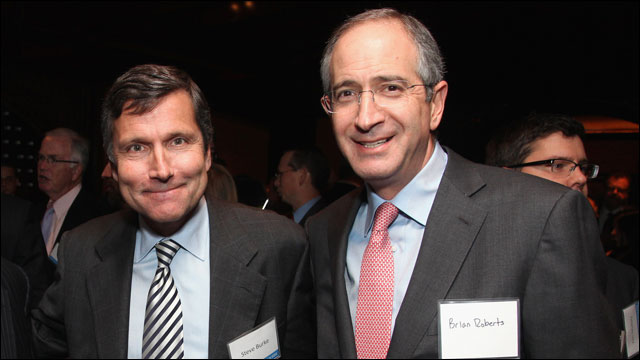 Above: NBC Universal CEO Steve Burke alongside Comcast CEO Brian Roberts earlier this year. (Photo by GettyImages)
In a show of faith in NBCUniversal's growth prospects, Comcast has set a $16.7 billion deal to snap up the 49% of the Peacock still owned by General Electric.
The accelerated plan to buy out GE's remaining interest comes on the heels of the NBC broadcast net delivering a ratings rebound and a tidy profit last quarter. (It's been a tougher first quarter for NBC, though.)
The deal, with another $1.4 billion thrown in for NBCU's properties at 30 Rockefeller Plaza and CNBC digs in Englewood Cliffs, N.J., speeds up a process that Comcast originally planned to conduct in two stages, in 2014 and 2017, per the initial terms of the acquisition agreement set in late 2009.
Now, Comcast is poised to assume 100% control of its entertainment assets. That's an increasingly attractive proposition given the improved performance at NBC and the continued earnings heft of NBCU's cable nets. Comcast shares were up more than 6% on the buyout news in after-market trading.
Comcast's fourth-quarter earnings, released along with news of the NBCU transaction, saw the broadcast biz swing to operating cash flow of $95 million from a negative $80 million the year before, driven by strong primetime ratings at the broadcast network and political advertising at local stations. Revenue rose 7.9% to nearly $2 billion. Comcast's overall net profit jumped 14% to $1.8 billion. Revenue was up 5.9% to about $16 billion.
"This is an exciting day for Comcast," said CEO Brian Roberts in a statement. The NBCU decision was "driven by our sense of optimism for the future prospects of NBCUniversal and our desire to capture future value that we hope to create for our shareholders."
The transaction is expected to close by the end of March.
In 2009, Comcast acquired a 51% controlling interest in NBCU from General Electric for $6.5 billion in cash. GE retained 49% and the right to sell its stake back to Comcast over a seven-year period starting 3½ years after the deal was completed, but nothing impeded the parties from mutually agreeing to an early settlement.
Roberts called the deal terms attractive, and Comcast has been building up a war chest to prepare for the outlay: Last year it sold its stake in A+E Television Networks for more than $2 billion.
The company said it will cover the deal through a combination of $11.4 billion of cash on hand, $4 billion in debt, $2 billion in borrowing under bank credit facilities and $725 million in preferred stock to be issued to GE.
Morgan Stanley served as financial adviser to Comcast, Davis Polk & Wardwell as legal adviser.
On the earnings front, NBC Universal revenue rose 4.8% to $6 billion as a flat showing in cable networks was offset by gains not just in broadcast but filmed entertainment and theme parks as well.
Studio revenue rose 9% to $1.4 billion on the strong theatrical perfs of "Les Miserables" and the release of "Pitch Perfect" and "This Is 40," along with home entertainment revs from "The Bourne Legacy" and "Ted." The company cited higher content licensing revenue from a larger slate year-over-year and improved digital sales.
Cash flow slipped by $5 million to $84 million on higher film costs and marketing expenses.
Cable networks revenue was up by 0.6% at $2.2 billion. Operating cash flow dipped 3.5% to $890 million on higher programming and production costs. Comcast said the quarter was hit by the NHL lockout and a 1.5% dip in advertising revenue on lower ratings, mostly offset by price increases.
Theme parks cash flow jumped 9.7% to $245 million. Revenue rose 4% to $520 million.
Cable operations, the bigger slice of Comcast's business, rose 7% to $10 billion as the average customer's monthly tab rose 8.7% to $153.54 on new products and higher rates. Video revenue rose 2.9% to just over $5 billion, but high-speed Internet revenue jumped 8.7% to $2.2 billion. Voice nosed up 1.4% to $894 million.
The nation's largest cabler ended 2012 with nearly 22 million video subscribers, down by 336,000 net for the year and 7,000 for the quarter. But it added 1.2 million high-speed subs for the year and 341,000 for the quarter.
Comcast also boosted its dividend by 20% to 78¢ a share and said it plans to repurchase $2 billion of its common stock during 2013.
(Rachel Abrams contributed to this story.)