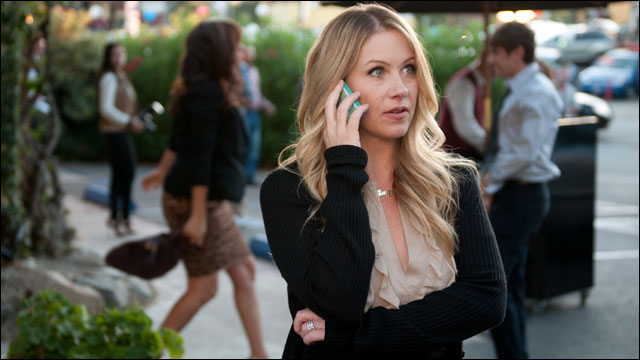 In the latest event of a tumultuous week at NBC, Christina Applegate has departed NBC sitcom "Up All Night," which has been in the process of being reinvented as a multicam show.
NBC had no immediate comment on whether this would derail future plans for the sophomore sitcom, which NBC said in October would abandon its single-cam format. Will Arnett and Maya Rudolph are the show's other main stars.
"It's been a great experience working on 'Up All Night,' but the show has taken a different creative direction and I decided it was best for me to move on to other endeavors," Applegate said in a statement. "Working with Lorne Michaels has been a dream come true and I am grateful he brought me into his TV family. I will miss the cast, producers and crew, and wish them the best always."
Deadline first reported the news of Applegate's departure.
NBC made its October announcement as the show was poised to produce its 11th episode of the season. The show went into a three-month hiatus, with production on the remaining five episodes of 2012-13 to resume this month in the multicam format.
In the intervening period, series showrunner Tucker Cawley and creator and exec producer Emily Spivey each exited the show.
Applegate's previous, "Samantha Who," almost made a similar transition. After two seasons on ABC, the network and ABC Studios in 2009 considered converting the show to a format resembling "How I Met Your Mother" — shot multi-cam over four days without a studio audience — in order to save money. Instead, ABC chose not to renew "Samantha."
NBC's outlook for this season and beyond has changed rather significantly in the past four days. While Thursday's season-four premiere of "Community" — the first episode without series creator Dan Harmon — drew a respectable 1.8 rating among viewers 18-49 and even topped "American Idol" in male viewers 18-34, the season-two premiere of "Smash" Tuesday collapsed to a 1.2, while Thursday midseasoners "1600 Penn" (1.1) and "Do No Harm" (0.7) performed even worse.
Though many have assumed that "Community" will not be renewed past this season, it suddenly stands as NBC's second healthiest Thursday candidate for renewal, behind "Parks and Recreation." NBC also has freshmen "Go On" and "The New Normal" on Tuesdays and "Whitney" and "Guys with Kids" on Wednesdays.