Joshua Brand and John Falsey come full circle as WGAW's Paddy Chayefsky Laurel Award honorees. Brand says their first series, "St. Elsewhere," was "greatly influenced" by Chayefsky's satirical film "The Hospital."
"There was a lot of dark humor," Brand says. "Hospitals are not 'The Love Boat.' You go in and bad shit happens."
The lifetime achievement award recognizes the Emmy and Peabody-award winning duo's body of work, which includes "Northern Exposure," "A Year in the Life" and "I'll Fly Away."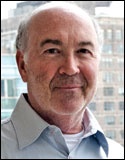 Beginning on "The White Shadow," their 17-year writing partnership delivered characters seldom seen on television. They fashioned Chris, the poetic convicted-felon radio-DJ; explored thoughtful black housekeeper Lilly's home life; and showed beleaguered physicians' shortcomings.
"The poetry came by trying to find something that explored characters. That's what we did best together," says Brand.
During their "lightning-bolt years," Falsey says they created eccentrics rooted in reality. He knew the crazy denizens of "Northern Exposure" had come to life when his house-painter brother called to say "I wonder what they are all doing up there in Alaska right now?"
Brand now serves as a consultant on FX's "The Americans," while Falsey recently wrote a pilot script for HBO.
WGA Awards 2013
WGA nominees spice up history with diverse approach
HONOREES
Tom Stoppard | Tony Kushner | Phil Rosenthal | Matt Groening | David Koepp | Daniel Petrie Jr. | Akira Kurosawa, Shinobu Hashimoto, Ryuzo Kikushima & Hideo Oguni | Joshua Brand and John Falsey