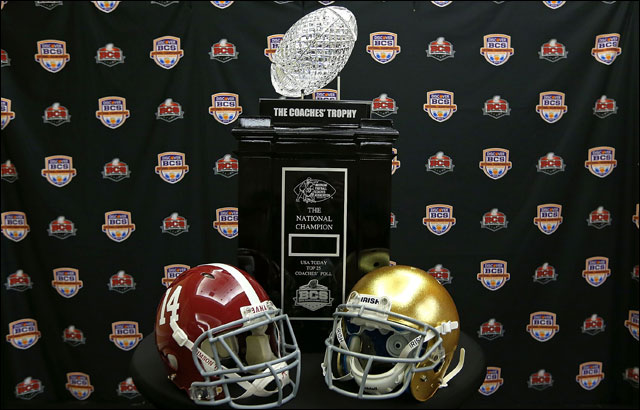 More and more, the BCS national championship is becoming a destination for advertisers. Today's clash between No. 1 Notre Dame and No. 2 Alabama could be a college football record-setter, offering an appealing place to debut spots. And with a playoff format set to begin after the 2014 season — positioning the title game ever closer to the Oscars (this year, they're just seven weeks apart), the possibilities are growing.
"In terms of new creatives, there is a fair amount coming from the guys who are big into college football," says Ed Erhardt, president of global customer marketing and sales for ESPN, which is broadcasting today's game and signed a deal in November to carry the BCS for the next 12 years. "We also have six movie studios running ads in the championship game. A number of years ago, that was not the case."
In terms of ad dollars, the BCS game is somewhat different from, say, the Super Bowl, in the sense that it often sells season packages to its advertisers while reserving a limited amount of inventory for Johnny-come-latelies.
"It's a season-long marketing opportunity," Erhardt says, citing Nissan's "Heisman House" campaign as a prime example. "We sell this property from opening kickoff (of the season) to the final whistle. Many advertisers are with us the whole year."
Among those, he says, some are sponsors like Allstate or Tostitos, which also buy naming rights to bowl games. Advertisers like those are likely to also unveil new spots, Super Bowl-style, during their own bowl games, as well as during the BCS title game.
Michael Parent, senior vice president and director of national broadcast at TargetCast, says the BCS title tilt is also a lure for product launches. "And you may see that grow with the enacting of a college football playoff system," he adds.
Brent Vartan, partner and chief strategy officer in the New York office of media buyer Deutsch, says the move to a playoff format in 2014 will burnish the BCS brand.
"The championship series is incredibly smart to create more places for advertisers to take advantage of the fandom that surrounds football," Vartan says. "You see the Big 12 trying to create a super conference, the Pac 12 creating a super conference, and each of those having an individual championship game. It all creates a tremendous opportunity for advertisers."
Vartan figures this year's game will prove a good buy for sponsors, after last year's contest, a rematch of an earlier-season meeting between Alabama and LSU, averaged the lowest household rating (14.0) in the 14-year history of the BCS. The game was too regional for most of America, and too one-sided (Alabama won, 21-0).
"(The game) went to ESPN; it's not on the majors anymore," Vartan adds. "But in general, we see (the game's stature among advertisers) creeping up bit by bit. I think it'll get more and more expensive as the BCS game matures a little bit."
With national darling Notre Dame in the mix this year, Erhardt sees today's contest as a possible colossus.
"We expect Notre Dame-Alabama to have a pretty big rating," he says. "Unless there is a blowout, we have the opportunity to have the highest-rated event in the history of cable."