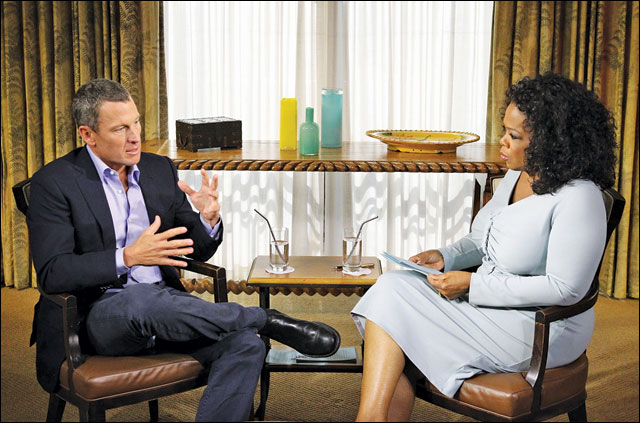 Just out of college, I worked for a community newspaper that was in the midst of bankruptcy, writing stories about local businesses, many of which happened to advertise with us.
If pressed I'm sure I could do it again, but God knows I wouldn't relish having to go back to square one.
Admittedly, for Oprah Winfrey to be on TV again, conducting high-profile interviews with the likes of Lance Armstrong and Whitney Houston's family, isn't nearly as painful. But it does return the billionaire mogul and OWN CEO to an arena she made fairly clear she hoped to have graduated beyond while providing a lesson about the limits of branding, reminding us the product must be something people genuinely want, not merely affiliated with an idea, or person, they like and admire.
Perhaps too eager for a bigger angle on the Armstrong interview, the New York Times suggested the much-ballyhooed twin telecasts "could be a turning point for OWN, which has been low-rated since its birth two years ago."
Yet the Times' coverage conveniently ignores its own reporting in December 2010, shortly before OWN made its debut. At the time Winfrey — referring to Discovery CEO David Zaslav, her partner in the network — said, "I think what Zaslav would have wanted, ideally, was for me to take the 'Oprah' show to cable. But I felt like the show had its day, its moment, its time."
Going in, the whole plan for OWN was to build a network around the host's uplifting "Live your best life" mantra while finding new talent to carry on that tradition. Simply put, the channel's early struggles suggest the slogan didn't possess enough heft without being peddled more vigorously by Ms. Best Life herself.
Eventually, Discovery convinced Winfrey to expand her presence on the network, doubling her commitment from 35 to a minimum of 70 hours a year, per the Times. Yet that amounts to an hour every five days, which leaves OWN in the same boat as mere mortals the rest of the time — namely, chasing hit shows while somewhat shackled by the need to do so without besmirching the Oprah name.
Granted, Winfrey has a nearly unparalleled track record in using her seal of approval to create other lifestyle gurus, from her book club endorsements to America's two favorite TV doctors, Phil and Oz. Still, that happened back when the host made herself available five days a week and drew millions more viewers.
To be fair, Oprah is hardly alone in this back-to-the-future regard. Indeed, this month's other big "get" interview, with Notre Dame star Manti T'eo, went to Katie Couric for her first-year syndicated daytime talkshow.
Despite her successful stint in morning TV, Couric's journalistic prestige arguably peaked when she interviewed Sarah Palin while anchoring "The CBS Evening News," exposing the then-vice presidential candidate's limited curiosity regarding world affairs.
Against that standard, rooting around for these sorts of salacious stories of the moment — here involving a college student's limited curiosity about the woman with whom he was purportedly involved in an online relationship — has to feel like a bit of a professional letdown.
Also, remember Glenn Beck, the lightning-rod host at Fox News Channel who opted to go launch his own Web network? If not, don't feel bad. Beck launched his Fox program the week President Obama was inaugurated, and four years later he's rich, true, but after splitting from the network, heard from much less often.
Who knows, OWN might very well look back at the Armstrong interview and improved subscriber fees from operators and determine they were, in fact, a "turning point."
More likely, though, the real takeaway from OWN will be an empire built around a single personality — even one as powerful and beloved as Winfrey — is going to be vulnerable, especially when numerous other channels are also courting female viewers.
Oh, and one more thought about turning points: If you keep turning in the same direction long enough, you'll eventually come full circle — right back to where you started.