Latin America is coming together as a regional and international movie co-producer.
HIGHLIGHTS

Fest opens March 1 with Joachim Ronning and Espen Sandberg's Oscar-nominated "Kon-Tiki" and closes March 9 with Luc Picard's "Esimesac."

Receiving homages and expected to attend are Swedish director Jan Troell; Spanish actor Angela Molina and prolific Mexican character actor Ernesto Gomez Cruz.

The second edition of fest's LGBT section for the Maguey Prize looks promising. Section head Pavel Cortes sat on Berlin's Teddy jury this year, and that winner, "In the Name of …" is set to screen in Guadalajara.

Eero Heinonen, the bassist for Finnish band the Rasmus, is in the spotlight at the fest's music sidebar Son de Cine when he presents his short "Walker" and perform a concert.

COMPETITION HIGHLIGHTS


Carlos Cuaron unspools his second feature, "Besos de azucar" (Sugar Kisses), a first love tale.

Chilean "La pasion de Michelangelo" (The Passion of Michelangelo), a drama mixing religion and politics from sophomore helmer Estaban Larrain comes with solid festival buzz.

The co-helming effort of Ana Guevara and Leticia Jorge, "Tanta agua" (So Much Water), prized at San Sebastian's 2012 Films in Progress. Uruguay-Mexico-Netherlands co-prod is a coming-of-age tale that unfolds during a rainy family vacation.

After his bow in Palm Springs, first-time helmer Dario Nardi brings us "Las mariposas de Sadourni" (Sadourni's Butterflies), a noir exploration of oddity and conformity. Argentina-Italy-U.K. production.
Just a decade ago, the region's producers went cap in hand to U.S. and European financiers seeking core or completion finance.
Now, savvier shingles and institutions from L.A. to Paris to London to Berlin are looking to Latin America for its markets, talent, locations, stories and money. Latin America producers are increasingly producing with one other.
The ninth Ibero-American Co-production Meeting, the Guadalajara Fest's industry centerpiece, is a case in point. Its 25 projects boast a rich range of financing plans, genres, budgets, co-production set-ups and filmmakers.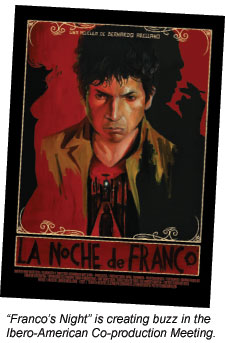 Four aren't even from Latin America. Sweden's Asa Faringer and Ulf Hultberg ("The Black Pimpernel") aim to structure "The Last Battle" as a Sweden-Denmark-Chile-Argentina-Mexico-Cuba co-prod.
Two more are sourced from the Berlinale Residency: Filipino Raya Martin's "The Empire" and Rafi Pitts' "Soy negro."
Both films transpose personal interests — Martin's interest in the fate of Filipino ex-guerrillas, Iranian exile Pitts' fascination with borders — to contexts offering international resonance and substantial co-financing.
Produced by Berlin-based Twenty Twenty Vision ("Ajami"), "Soy negro" turns on a young jobless Mexican immigrant who becomes a so-called "green card soldier," fighting in the Middle East not for a nation but U.S. nationality.
Twenty Twenty is looking for a minority Mexican co-producer, not just a service company, in order to tap Mexican tax breaks, says company's Martin Hanbel.
Directors are searching for artistic viewpoints that cross borders, and Latin American artists are gaining international respect, says Andrea Stavenhagen, Guadalajara's head of industry.
Since the late 1990s, production levels, incentives and co-production funds are proliferating in Latin America, goosing regional production.
Colombia produced five films in 2003 and 21 in 2012 through October. Brazilian incentives max out at $5.1 million per movie.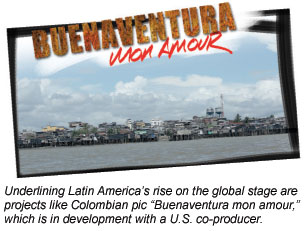 "Countries without established filmmaking traditions — Chile, Colombia — are producing a lot and smaller countries are beginning to ramp up production," says Argentine producer Lita Stantic.
"Over the last two to three years, Latin American governments have been pushing for far larger interaction between national film industries," adds Uruguayan producer Mariana Secco ("Mr. Kaplan").
Beyond Bernardo Arellano's "Franco's Night" and Lucia Carreras' "Tamara and the Ladybug," four projects at Guadalajara's Meeting are creating buzz: Panamanian Enrique Castro Rios' "Sultan," a Panama-Colombia co-prod; Costa Rican PatriciaVelasquez's "Two Waters," about two 12-year-old boy on Costa Rica's coast, a Costa Rica-Colombia co-prod; Brazil-Mexico co-prod "Carmen," about a Spanish girl seeking work in Brazil, is from Mexican Aaron Fernandez, who lives in Sao Paulo, and works in Mexico; and Andres Di Tella's "327 cuadernos," an enquiry into Argentinean novelist Ricardo Piglia's creativity, links Argentina and Chile.
"With convergence, globalization and economic crisis, international partnerships are natural and getting easier," says "Carmen" producer Leonardo Mecchi.
Projects are also attracting U.S. partners. Mexico's Velarium Arts is developing "Keep Quiet," by Jorge Michel Grau ("We Are What We Are") with L.A-based XYZ Films, says Velarium's Mayra Espinosa Castro.
"European and American companies are increasingly interested in Latin America for its stories, talent, national cultures and co-productions, which gives Latin American films more projection and scale," she adds.
In a second U.S. move, "El paramo" producer Rhayuela Films has teamed with L.A.-based the Alchemists Storytelling Co. for multiple-platform development on Colombian hip-hop movie "Buenaventura, mon amour," says "Buenaventura" producer Steven Grisales.
"In the last two years, something unheard of and now common is happening: European producers seeking minority completion finance on their projects are coming to Latin America," says "327 cuadernos" producer Gema Juarez Allen.
Meanwhile, U.S. indies such as IM Global and Participant Media are unveiling partnerships with top Latin American shingles. IM Global has teamed with sales company Mundial and Mexico's Canana, while Participant unveiled Participant PanAmerica during the Berlin fest, bringing together Canana, Chile's Fabula and Colombia's Dynamo.
Increasingly producing with one other or abroad, the still young new Latin America industry can be said to enjoy the best of two worlds. James Young
RELATED LINKS
• Trujillo targets Guadalajara's market growth as goal