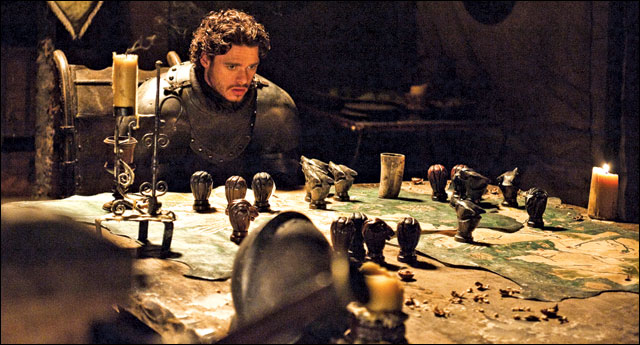 A visit to the seven kingdoms of Westeros, the fictional medieval world conjured into magical life in the HBO TV series "Game of Thrones," takes the viewer on a dizzying journey to a rich and complex fantasy environment that multiple Emmy-winning production designer Gemma Jackson has rendered into vivid and stunning detail.
In the episode "The Ghost of Harrenhal" — the one nominated for the ADG award — as King Renly Baratheon encounters black magic amidst the billowing curtains of his sprawling tent city, rich fabrics, royal colors and bold patterns evoke luxury and splendor.
A dramatic shift in tone and style signals arrival in the sun-dappled streets of King's Landing, the seat of power in the seven kingdoms, that blends medieval mud and mortar with luscious Mediterranean splendor. It is here, situated inside lush gardens and vast halls, that Jackson's piece de resistance is revealed: the magnificent titular throne room. A marbled tile floor, inspired by the Pantheon in Rome, anchors a series of grand columns and cathedral windows that evoke a sacred, hallowed space as the viewer's eye is drawn across the vast expense and up the dais to the twisted and imposing iron throne.
Grande's credits include set decorator on "Friends."