There's no shortage of music-driven shows on television these days, but it's rare to find one that uses top-notch original music to tell the stories of its characters as organically as ABC drama "Nashville." The show explores what it takes to become a star in the country music capital, and uses songs written by burgeoning Nashville talent as well as renowned veterans.
While the high caliber of "Nashville's" music and the impressive performances by the actors, who sing the songs themselves, may come as a surprise to casual viewers, it's no wonder given the show's pedigree, including Grammy-winning producer T Bone Burnett, veteran music supervisor Frankie Pine and Oscar-winning screenwriter Callie Khouri ("Thelma & Louise"), "Nashville's" creator and executive producer.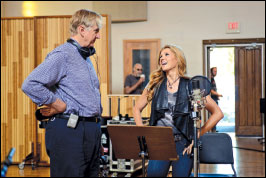 Pine says the use of original, previously unreleased tunes from talented songwriters is what sets "Nashville" apart from other popular TV tuners. " 'Glee' uses songs we already know and love as hits," she says, (so) they have a built-in hit maker. And 'Smash' has a bigger production aspect with dancing. But we're creating brand new material no one has heard before … I believe our show is more about the songwriting and what (the characters) are going through. It's not a musical, as much as that this show is about music."
Pine, Burnett and Khouri (who's married to Burnett) mine the depths of Nashville's music community to find just the right songs to fit the scenes and characters. "There's so much music in Nashville that never finds its way out of Nashville (even though) the quality is so high," Khouri points out. "Like any other musical field, there are a lot of songs that don't make it to the broad population that probably should. This (show) gives us an opportunity to do that."
Pine sifts through thousands of songs sent to her by songwriters and industry
contacts, and can often be found scouting talent at Nashville's live music venues. What's more, Burnett calls on his army of talented friends to offer songs from their back catalogs, and has amassed tunes by the likes of Elvis Costello, Lucinda Williams and the Civil Wars for use on the show.
The approach has been paying off. While the show's ratings are middling — perhaps due in part to its late 10 p.m. timeslot — the music is taking off. "The Music of 'Nashville,' " released by Big Machine Records, earned the biggest sales week of the year for a TV soundtrack, debuting at No. 14 on the Billboard 200 in December and selling 56,000 copies.
Meanwhile, singles like "If I Didn't Know Better," which was sung in the pilot by young songwriting duo Gunnar and Scarlett (actors Sam Palladio and Clare Bowen) and written by the Civil Wars' John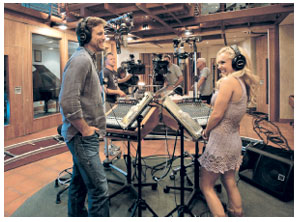 Paul White and Arum Rae, debuted in the iTunes top 20 in October and has held strong ever since.
"We weren't huge TV stars and they weren't huge cover songs, so that was really a testament to good songwriting," says Palladio. Although Palladio and Bowen had prior musical training, neither was well versed in country music, as a Brit and an Australian respectively, and relied on Burnett's guidance to convincingly portray the country upstarts.
"I work with T Bone on all my songs … he has a lifetime's worth of experience on me," says Bowen. "He's taught me to not second-guess myself and keep things simple. I'm a classical singer so (country music) is a really different thing for me. It's being true to your own voice and keeping it simple."
"T Bone is an amazing wealth of information," Palladio adds. "We met in L.A. and sat for about four hours just playing music, listening to B.B. King and Howlin' Wolf. He educated me on some of the classics I hadn't come across. He got together this amazing playlist of music that Gunnar would have been aware of."
Burnett used a similar approach with "Nashville" stars Connie Britton and Hayden Panettiere, who rely on him to bring out their country star qualities on screen, much like he did with Jeff Bridges in his Oscar-winning role as a country crooner in "Crazy Heart." "I would call T Bone an actor whisperer," says Pine. "He seems to have a way of getting actors to a place where they feel comfortable singing."