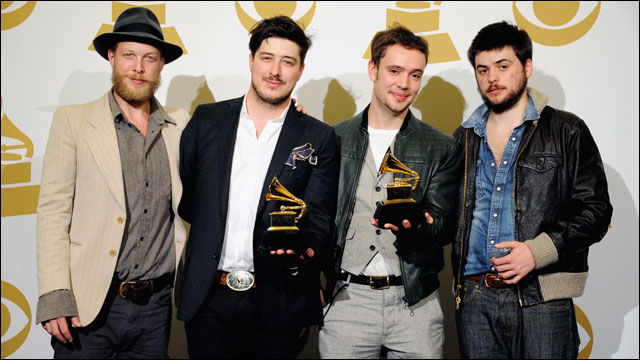 In a week that saw traditional post-Grammys sales spikes, Mumford & Sons' "Babel" returned to No. 1 on the U.S. album chart and a number of other releases by winners and performers witnessed sizeable boosts.
"Babel," which collected album of the year honors at the Feb. 10 ceremony, returned to the top with a 185,000-unit week, according to Nielsen SoundScan data for the week ending Feb. 17. Week's tally, reflecting a full week of post-kudocast sales, represented a 242% gain for the Glassnote title, which last topped the chart in October and has sold 1.92 million to date. The U.K. folk-rock act performed twice on the CBS telecast.
Unsurprisingly, the week's other big winner in the top 10 was Capitol's "2013 Grammy Nominees" compilation, which contains tracks by most of this year's big winners. Climbing nine slots to No. 2, the collection gained 136% and shifted 88,000.
Two performers featured in splashy Grammy segments more than doubled their sales during the week. Bruno Mars' "Unorthodox Jukebox" (Atlantic) climbed 112% and moved up five rungs to No. 3, selling 86,000. Show opener Taylor Swift's "Red" (Big Machine) was lofted 106%, moving up eight positions to No. 4 with a 72,000-unit week; title has now moved 3.43 million.
Other Grammy beneficiaries filled out the top 10. The Lumineers' self-titled Dualtone album moved up four slots to No. 6, gaining 70% and moving 67,000; the act played its tireless hit "Ho Hey" on the show. Fun, which took home best new artist and song of the year honors, received a 118% bump for its "Some Nights" (Fueled By Ramen), which reached No. 7 with sales of 66,000. Maroon 5's "Overexposed" re-entered the top 10 at No. 10, shifting 48,000 and gaining 119% behind an appearance by lead singer Adam Levine.
Josh Groban's "All That Echoes" (Warner Bros.) experienced a drop to No. 5 in its second week following its No. 1 bow. The balladeer's set witnessed a 50% drop, tallying 72,000 in its sophomore frame.
The week's other top 10 holdovers included the "Now 45" hits compilation (No. 8, 63,000 sold, down 27%) and tenor Andrea Boccelli's "Passione" (No. 9, 48,000, off 6%).