There may be bigger music libraries, but Sound Adventures is the only one that can boast of having the Vienna Boys Choir in its repertoire.
Sound Adventures principals Timo Spekkens and former Vienna Boys' Choir member Thomas Zbornik met when they were both shopping for gear at a studio supply store in Los Angeles. They sparked up a conversation and that led to launching Sound Adventures a dozen years ago as a production house.
In 2011, they launched Sound Adventures Library to formalize much of what they'd already been doing, as well as expand their offerings. Among the film trailers and television promos featuring Sound Adventures' compositions since the company's 2000 inception are "Batman Begins," "Spider-Man 2," "Munich," "Ocean's Twelve," "Resident Evil," "Million Dollar Baby," "Grey's Anatomy" and 'Law & Order."
Over the past several months, Sound Adventures' music has been featured in promos for "Jeopardy," a number of ABC programs, NBC's Election Night coverage among other usages. Licensing orchestral music for a trailer starts at around $5,000.
The library touts seven composers, including Zbornik and Spekkens. "We see ourselves as a boutique library," says Spekkens, who is based in Santa Clarita, Calif. Zbornik works out of Sound Adventures' Zurich studio. The company also prides itself on using live orchestras whenever possible, aided by a working relationship with the musicians of the Vienna Symphony.
To help facilitate turnkey solutions, Sound Adventures Library has commercially released seven volumes of theme music, each loosely tied to a film genre. There are 165 titles in the volumes, many of which are offered in different mixes with varying degrees of percussion, orchestration and choirs for a total of 485 cues. That number also includes 50 transitions, which can serve as bridges between cues or as their own independent compositions. Sound Adventures plans to release up to six more volumes in 2013.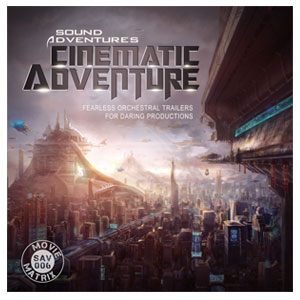 Sound Adventures Library recently began a service dubbed Movie Matrix to make cue selection painless. "You can go through a library and pick some cues, but they'd be unrelated," Spekkens says. "With Movie Matrix, you can pick cues for a movie — you may have an action scene and a love scene and more — and they are thematically cohesive."
Among the offerings is music from the Vienna Boys' Choir. In 2007, Zbornik, who was a member of the renowned choral group in the 1980s, and Spekkens produced the music for Klangwolke, an annual multi-media musical event held in Linz, Austria. The Vienna Boys' Choir sang one of Spekkens/Zbornik's compositions, "A Celestial Odyssey." Sound Adventures began offering the rendition in its repertoire recently and plans to add two more performances.
Given the layers of tradition with the Vienna Boys' Choir, which started in the 15th century, Spekkens says, "there's pushback about new developments," but Zbornik's connection to the organization has helped pave the way for an ongoing relationship.