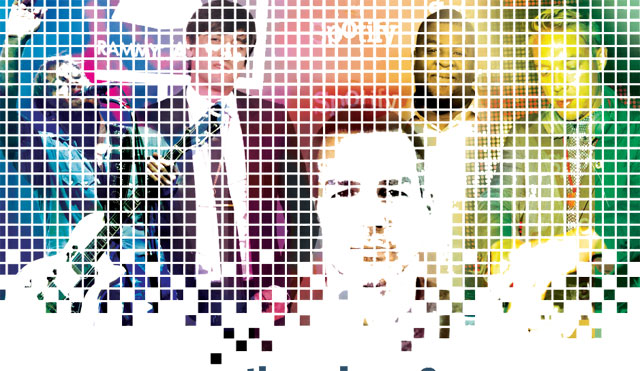 For almost every year since the category was introduced in the mid-'70s, glancing at the nominees for Grammy's producer of the year (non-classical) honor can usually provide a better barometer of the year in pop music than many of the major categories.
That doesn't always mean the nominees make sense when ranked as competitors, and this year's field begs the question of how a single title can possibly be applied to such a wide spectrum of craftsmen. The nominees range from a moonlighting garage rock frontman (the Black Keys' Dan Auerbach) to an Enophile pop-rock specialist (Markus Dravs), a Kanye West sidekick-turned-alt-rock-hitmaker (Jeff Bhasker), a jazz- and reggae-loving rap titan (Salaam Remi) and a jet-setting globalist DJ (Diplo).
"The term 'producer' is so varied now, you know," says Diplo, nominated this year for his work with Usher, Snoop, Santigold and Justin Bieber. "Sometimes a producer can write all the lyrics as well as the music. Sometimes he just adjusts the sounds in a song."
Remi, who spent the past year helming tracks for Miguel, Alicia Keys and the majority of Nas' "Life Is Good" album en route to a recently announced gig as exec VP of A&R for Sony, is similarly aware of his indispensable yet nebulous role in music creation.
"Would anyone buy an album based on the fact that Salaam worked on it? I mean, who cares?" Remi opines. "In general, the greatest creators, songwriters, executives in the history of this industry weren't the ones who put themselves in front of things — they let the stars be the stars."
Of course, some would say that producers of Remi's caliber are the stars of their particular fields, serving in the role of auteur much the same way a film director would. And much like film awards bodies often confuse "best directing" with "most directing," so too can producers who work in the more studio-driven pop and hip-hop genres absorb far more plaudits than their peers in rock, folk and country.
For example, a novice might think Dravs' work on Mumford & Sons' "Babel" simply amounted to finding the right volume levels and mic placement to capture the group's organic, self-contained sound. Or that Black Keys singer-guitarist Auerbach simply transposed his own band's blues-drenched analog aesthetic onto albums by spiritual predecessor Dr. John and fellow travelers Hacienda during his time behind the boards.
Only someone who has never seen the inside of a recording studio, however, would ever use the word "simply" to describe either of those tasks.
Besides, even pop producers with trademark styles can wind up doing their most memorable work when wrestled away from their comfort zones, an experience Bhasker knows well.
Graduating from Berklee College of Music with plans to become a jazz pianist and composer, Bhasker instead made his name helping Kanye West evolve his brand of sample-based hip-hop into the ornate, room-filling pomp of "My Beautiful Dark Twisted Fantasy" and Jay-Z collaboration "Watch the Throne."
And in turn, it was through his work with these well-remunerated hip-hop kingpins that he attracted the attention of some scrappy, little-known indie rockers.
Fascinated by the sonic landscapes of West's "Fantasy," Nate Ruess, frontman for alt-pop trio Fun, set about pestering Bhasker to produce his band's second record. "To be honest I didn't know Nate's music, and I wasn't really interested," Bhasker recalls. Finally, Bhasker was cornered by Ruess at a party, where he dropped all propriety and simply belted out the hook to a work-in-progress song titled "We Are Young" a cappella.
Shortly thereafter, Bhasker was in the studio with the band. The song topped the Billboard Hot 100 for six straight weeks, with Bhasker producing the remainder of the band's "Some Nights" album for good measure, followed by sessions with Taylor Swift and the Rolling Stones.
Yet even though Fun had selected him for his specific sonic palette, Bhasker was careful not to impose himself too heavy-handedly.
"There's a spirit in a performance and in a song, and in editing it, you can ruin that spirit," he says. "As modern as we are with the way we make music and listen to music, that spirit of the room is still there somewhere, and it's what you need to hear the most."
Similarly, producing tracks for Justin Bieber and Bruno Mars was hardly the most obvious destination for the restless and sometimes controversial Diplo, who logged innumerable live DJ dates last year when he wasn't busy with gonzo dancehall project Major Lazer or providing a showcase for splenetic young rapper Azealia Banks on "Fuck up the Fun."
Perhaps most famous for stoking the barely controlled chaos of M.I.A.'s breakthrough "Kala," Diplo's outre flourishes can sometimes obscure his gift for subtly crafted musical synthesis. Case in point, his recent work with Usher on "Climax."
Arguably the high-water mark of an unusually strong year for R&B, the track combined elements of the Weeknd's sexy miserablism, "Here, My Dear's" soul-baring and Bjork-like trance swells into something rich and strange, goading the typically mainstream singer into unexplored corners without pushing him too far outside the boundaries of pop.
"Everything has to feel natural," Diplo says. "I don't want to always make songs that make artists uncomfortable, I think I'm just motivated by doing things differently and hearing things that haven't been done. … And I think that's why lots of people hit me up, because I'm not using the same ears."
Having a different pair of ears also proved vital for Remi, who uncovered the molecular structure of Nas' "The Don" via a simple mondegreen.
Back in 2011, Remi received an email from late rap legend Heavy D, who wanted to see if Remi could make use of a reggae song he'd unearthed, Super Cat's "Dance Inna New York." No sooner had Remi started playing the song than regular collaborator Nas called him, mishearing a line from Super Cat's thick Jamaican patois in the background as "Nas, the Don." From there, the two started hearing all sorts of accidental oronyms in the song — "we were like two aliens listening for these outer space messages," Remi laughs — and assembled Nas' "Life Is Good" centerpiece from these scattered samples.
Given the importance of such unexpected affinities and coincidences, perhaps the comparison between a producer and a director is a bit misleading. In fact, where indulging in control-freak tendencies can be a must in filmmaking, a good music producer has to be ready to do just the opposite.
Per Remi, "For the most part I get the best music from two or three people actually playing together, rather than from one guy with headphones saying 'I'm the boss, I'm the producer.' "
Bhasker is even more nonchalant, describing his change in mindset as he scouts future projects.
"I'm not doing studio sessions anymore," he says. "I've just been throwing parties with lots of cool, talented people, turning on the mic, and seeing what happens."
Grammy Awards 2013
Lead or supporting players? | High-flying fete aims higher | Boss delivers care package | Corea: A 'Hot House' flower