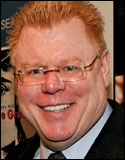 Daniel Petrie Jr. feels lucky just to have completed three decades as a Writers Guild of America member — never mind receiving the Morgan Cox Award for service.
"The odds on being a professional screenwriter are longer than becoming a major league baseball player," he noted recently. "We've gotten really lucky to be able to do this for a living. And it's always been very gratifying to work in the guild vineyards."
He's served twice as WGA West president, three times as a VP along with serving on eight different committees including the negotiating committee.
Petrie says he's tended to be on the moderate side of guild governance but notes that it was crucial for members to show public solidarity during the 2007-08 strike because opposition would have been used against the WGA. "Management's position was so intransigent that we had to go on strike," he adds.
Petrie says he's a strong supporter of the guild's position that only screenplays done under WGA jurisdiction or a foreign guild should be eligible for its screenplay awards. "We are the ultimate arbiter of credits so our policy is completely appropriate."
WGA Awards 2013
WGA nominees spice up history with diverse approach
HONOREES
Tom Stoppard | Tony Kushner | Phil Rosenthal | Matt Groening | David Koepp | Daniel Petrie Jr. | Akira Kurosawa, Shinobu Hashimoto, Ryuzo Kikushima & Hideo Oguni | Joshua Brand and John Falsey