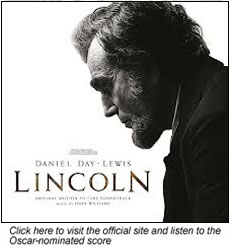 Composer John Williams, who turns 81 today, has the most Oscar nominations of any living individual: The original-score nomination for "Lincoln" is his 48th, and he has won five times.
"Lincoln" also marks his 26th film with director Steven Spielberg. And this is their 40th year as creative partners, having launched a celebrated collaboration on "The Sugarland Express" in 1973.
"Lincoln," Williams says, demanded a specific brand of musical Americana: "I thought that the music in some fundamental way should have the harmonic and melodic grammar of the 19th century — music that might have been heard at the time." .
Williams researched the Civil War period in American music and settled on two key ideas: 19th-century church melodies, and the Appalachian folk music of the time. "So the modalities are hymnal, if you like," he adds. "It's all original, but that's the vocabulary."
The hymn-like theme that underscores Lincoln's second inaugural address near the close of the film is just one aspect of a diverse score that includes uplifting music for the appearance of black Americans for the first time in the House of Representatives; an elegy for the Civil War dead; lighthearted fiddle-playing for the comic scenes involving political operatives; and melancholy piano for Lincoln's dead son Willie.
Asked about the restrained use of music in the film, Williams points out that "the central focus of the soundtrack is dialogue. It plays more like a theater piece, so accompanying elements like music and sound effects are in proper proportion for this kind of presentation."
Williams recorded over three days with the 85-member Chicago Symphony Orchestra, initially chosen because Lincoln was from Illinois. But Williams — a friend of author Doris Kearns Goodwin, from whose book the script is based — also discovered that Illinois was the first state to ratify that 13th Amendment. "So armed with that knowledge," Williams recalls, "Steven and I said to each other, 'They've earned the right to do this.' "
Actor Daniel Day-Lewis, who plays Lincoln in the film, attended all three days of recording in Chicago's Orchestra Hall. Williams says that having a movie star take such an interest in the score was "certainly a first in my experience."
Eye on the Oscars 2013: Music
"Anna Karenina" | "Argo" | "Life of Pi" | "Lincoln" | "Skyfall"
Best Song