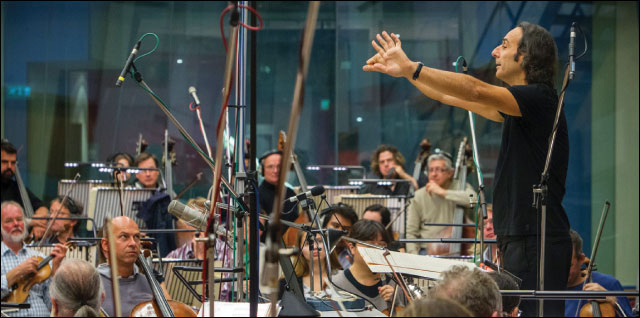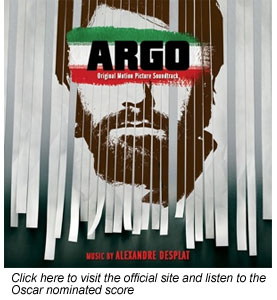 The collision of cultures that figures so prominently in "Argo" was the inspiration for Alexandre Desplat's evocative score.
"I wanted to make sure that we felt that wall of separation between the two worlds," the Paris-based composer says. "As the plane enters Iranian air space, you hear the Middle-Eastern sound for the first time. Slowly but surely all the Middle-Eastern instruments gather, and you are thrown into an icy cold pool where you are in danger."
Desplat — who previously scored "Argo" producer George Clooney's "Syriana" and "The Ides of March" — began by hiring Persian singer Sussan Deyhim, who left Iran in 1980 and who, says the composer, "knows the story from her heart."
"She brings a drama, a sensitivity and authenticity," Desplat adds. "There's something really deep and emotional about her. That's what (director) Ben Affleck liked. He knew that the music would bring a lot of emotion to the film."
To Deyhim's wordless vocals, Desplat added the rhythms and musical colors of the region, including ethnic percussion played by a fellow Persian, Bijan Chemirani. "But I didn't want only Iranian instruments and players," Desplat says. "I wanted a larger sound, a strange blend; you can't really tell which country it's from."
So he brought in Turkish musicians to play the ney flute and the bowed-string kamancheh, a Greek musician for the lute-like oud, and still more ethnic percussion performed by an American. They recorded as a unique combo at L.A.'s historic Capitol Records studio, then augmented their work with a 53-piece orchestra at the Sony scoring stage.
The "American" music, especially after the hostage rescue at the very end of the film, offers "a sense of pride and confidence, a grandeur," says Desplat.
"Argo" marks the fifth Oscar nomination in the past seven years for the prolific composer (among them "The Queen" and "The King's Speech"). Also in the running this year were his music for "Zero Dark Thirty" and "Rise of the Guardians."
Eye on the Oscars 2013: Music
"Anna Karenina" | "Argo" | "Life of Pi" | "Lincoln" | "Skyfall"
Best Song