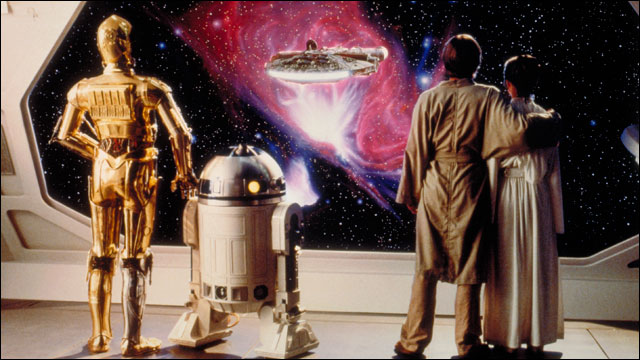 Disney is rallying a Force of creatives to build out the new "Star Wars" film universe.
In addition to three separate films that will continue the Lucasfilm franchise starting in 2015, Disney chief Bob Iger confirmed Tuesday the rampant speculation among "Star Wars" fans that the Mouse is developing other standalone pics tied to the "Star Wars" mythos. Scribes Simon Kinberg and Lawrence Kasdan are working on projects that would not directly intersect with the storylines planned for the seventh, eighth and ninth installments of "Star Wars."
Iger detailed the plans during an interview Tuesday with CNBC ahead of a call with analysts to discuss the company's Q1 results.
Despite some worries from producers that the first new film might face development delays, Iger said Disney is targeting summer 2015 for its release. Studio also is aiming to release "The Avengers 2" and "Ant-Man" that year, giving it a trio of high-profile tentpoles from Lucasfilm and Marvel. It also has the fifth "Pirates of the Caribbean" dated for that summer.
Iger noted that Kasdan, who has a long history with Lucasfilm as the screenwriter of "The Empire Strikes Back" and "Return of the Jedi," is consulting with J.J. Abrams, who last month was formally attached as helmer of the seventh "Star Wars." Kinberg, who penned Warner Bros.' "Sherlock Holmes," Fox's upcoming "X-Men: Days of Future Past" and is a producer on Disney's "Cinderella," also will consult on the project.
Disney is moving quickly to start recouping the $4 billion it ponied up to buy George Lucas' Lucasfilm last year.
"We plan to make 'Star Wars' 7, 8 and 9 over roughly a six-year period of time starting in 2015," Iger told CNBC's Julia Boorstin. "But there are going to be a few other films released in that period of time, too."
Iger declined to disclose specific details of those projects during the later call with analysts. But the Mouse House topper did disclose that the $4 billion pricetag to buy Lucasfilm was based on the value of three additional "Star Wars" films and the resulting toy and other consumer product sales it could earn from those films, not the potential coin it could collect from spinoffs.
"When we were exploring very seriously with George (the acquisition of Lucasfilm), the idea of producing a few standalone films that were not part of the overall saga came up," Iger said during the quarterly call. "Those possibilities are becoming more real."
Iger added that every division of Disney — from its networks to its interactive and theme park arms — will be turned to promote the films.
"The priority of Disney and Lucasfilm is to create a great film for 2015 and do everything we can across our businesses to help the success of that film."
Watch Iger's CNBC interview: