Nicholas Sparks' latest love story is really more of a classic Hollywood bromance.
Proving that the $115 million worldwide release of "Dear John" in 2010 was more than just a one-movie stand, Relativity bows "Safe Haven" on Valentine's Day, the second straight collaboration between the studio, novelist and "Twilight" saga producers Marty Bowen and Wyck Godfrey. And if their strategy to simultaneously kick off the "Safe Haven" book and film marketing campaigns pays off, it wouldn't be a stretch to see the relationship go longer-term.
"Safe Haven" also marks Sparks' first producing stint, coming on his eighth book adaptation. It's also Relativity's first 360-degree handling of one of his films. (Relativity developed, produced and financed "Dear John" but released through Screen Gems before acquiring its distribution arm.)
"I've had a great working relationship with Relativity from the very beginning," Sparks told Variety. "It was obvious they cared about 'Dear John,' and not just as a box-office success, but in terms of 'Let's make a quality film.'"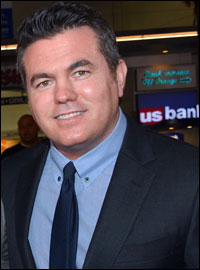 According to Relativity prexy Tucker Tooley (right), the courtship began when New Line — in the midst of its 2008 integration with Warner Bros. — decided not to move ahead with "Dear John," which would have been the sixth Sparks pic at WB or New Line. Instead, Tooley and Relativity topper Ryan Kavanaugh made an aggressive play to take up the project in an all-night bidding war that Kavanaugh recalled at the "Safe Haven" premiere Tuesday night at the Chinese.
"We knew we wanted to be in the Nicholas Sparks business," Kavanaugh told the crowd, an arrangement he later said he hoped would continue "for a very long time."
That's not to say they'll break up the longstanding relationship between Sparks and Warner Bros. — WB still has Sparks' 2011 release "The Best of Me" in active development, and the author, who writes at the prolific pace of one novel per year, goes with a film-by-film adaptation approach over any exclusive development deal.
No matter where Sparks takes his projects, his is a good business to be in right now. With nearly 80 million books in print worldwide, the strength of his audience is undeniable and that translates to box office: His seven releases to date have grossed more than $660 million globally.
"We always wanted to do a movie with Nicholas Sparks," said Bowen, who with Godfrey has some experience shepherding bestsellers to the screen after producing the "Twilight" saga at Temple Hill. Though the two had worked with the Relativity guys in the past, they didn't know Sparks before taking on "Dear John."
"Wyck and I are unapologetically romantics at heart," Bowen said. "We were sort of surprised that more Nicholas Sparks movies weren't getting made after 'The Notebook' ($115 million worldwide) and 'Message in a Bottle' ($119 million). There was a true consistency to the audience."
That audience — female-dominated but spread over an impressively broad age demographic — was the target of what at the time was a radical ploy by Relativity, Sparks and imprint Grand Central Publishing: to fire up the film's marketing before the book was even released. Though digital marketers now preach the importance of early theatrical campaigning, it was a leap at the time.
"Remember, this was 2010," said Tooley, an exec producer on "Safe Haven." "While it's commonplace to do that today, it wasn't necessarily that way. It was a perfect storm of what was happening digitally, and Nicholas' fanbase growing, and his determination to have a conversation with his fans throughout the process."
Jamie Rabb, president of Grand Central Publishing and Sparks' longtime editor, said it's the first time a movie studio was that intensely involved with a Sparks book launch.
"We've been in lockstep, and I've never seen anything quite like it," Rabb told Variety. "It helps everybody. We're all invested in the Nick Sparks franchise and brand in many different ways. We've had a hand in quite a few campaigns, but we've never had our act together this much."
Efforts included early promotions and giveaways on Sparks' various social media channels, set-visit sweepstakes surrounding the book tour and editorial coverage on Relativity's online Rogue Network, just to name a few. And it worked both ways: The film campaign also helped the book, as production assets were cooked into an enhanced e-book edition that Rabb says has revved up sales by "leaps and bounds."
"They gave us something we've never done before with that," Rabb said. "Behind-the-scenes interviews, photos … it was rich stuff. Almost from the time they inked the deal, they knew everything was connected — that his fanbase was going to help the movie — and were thinking of ways to pull in the publishing side."
They were also pulling in Sparks in unprecedented ways, tapping the prolific author to produce elbow-to-elbow with Kavanaugh, Bowen and Godfrey.
"We have found, Wyck and I, that whether it be Stephenie Meyer ('Twilight') or Mike Rich ('The Nativity Story'), we love working with novelists who also want to be part of the film's creative process," Bowen said. "They understand their material better than anyone else. That's an invaluable asset to have."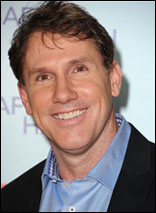 "It was different," Sparks (left) recalled. "For the past few movies I've been doing what a lot of producers do when they work on films: I was involved in script and casting, and I've certainly been one of the voices in the room for years now. This one just came together so beautifully."
With former "Dancing With the Stars" pro and "Footloose" remake star Julianne Hough in the lead role for "Safe Haven," Sparks' films continue in the tradition of featuring up-and-comers, a list that's included Ryan Gosling and Rachel McAdams ("The Notebook") and Channing Tatum ("Dear John"). But his latest film contains a thriller element that's unique in the Sparks oeuvre, giving him another element to build in one of his signature plot twists.
"I like an unexpected ending," Sparks said.
The same could be said for his future movie projects. Asked whether the Relativity/Sparks/Temple Hill relationship could be the start of something, all parties remained positive, if noncommittal.
"We're in constant dialogue," Tooley said. "Like any good partnership, our tunnel focus is on this movie, making sure it's the best possible result."