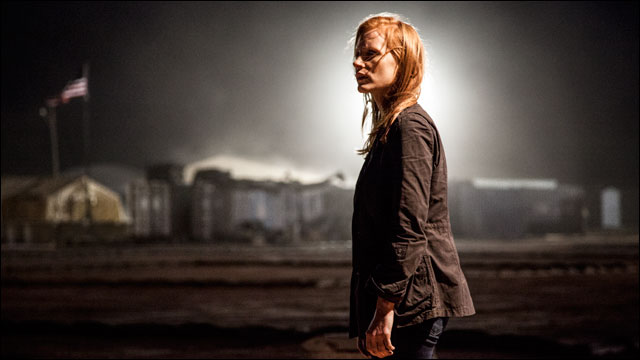 The three senators critical of the portrayal of torture in "Zero Dark Thirty" are now asking the CIA for documents on the cooperation given to the filmmakers but also a clarification from Acting CIA director Michael Morell over his suggestion that "enhanced interrogation techniques" did yield some valuable information that helped lead to Osama Bin Laden.
Sen. Dianne Feinstein (D-Calif.), Sen. John McCain (R-Arizona) and Sen. Carl Levin (D-Mich.) sent two letters to Morell, which not only revive concerns that the CIA gave special treatment to Kathryn Bigelow and Mark Boal, but illuminated a differences on Capitol Hill and at the CIA on the value of enhanced interrogation techniques in the hunt for Bin Laden.
The senators already have slammed the movie, calling it "grossly inaccurate and misleading" in a Dec. 19 letter to Sony Pictures Entertainment CEO Michael Lynton that even asked him to make changes to the movie, which went into limited release that day.
They also sent a letter dated the same day to Morell, writing that the "CIA cannot be held accountable for how the Agency and its activities are portrayed in film, but we are nonetheless concerned, given the CIA's cooperation with the filmmakers and the narrative's consistency with past public misstatements by former CIA officials, that the filmmakers could have been misled by information they were provided by the CIA." They are seeking records, documents, emails and talking points on information provided to the filmmakers. They note that one e-mail already disclosed showed Morell met with the filmmakers"for forty minutes, during which you provided 'substance again.'"
"Zero Dark Thirty" may have raised questions about filmmaker access to high levels national security officials, but the movie has revived a much more enduring debate, predating the production of the movie, that has been simmering between some Capitol Hill lawmakers and former and even present CIA officials over the role and value of torture and how it will be portrayed in the historical record.
On Dec. 21, Morell issued a public statement to CIA employees, noting that agency analysts relied on multiple streams of intelligence to conclude Bin Laden was hiding in Abbottabad. But he also said, "Some came from detainees subjected to enhancced techniques, but there were many other sources as well."
"And, importantly, whether enhanced interrogation techniques were the only timely and effective way to obtain information from those detainees, as the film suggests, is a matter of debate that cannot and never will be definitively resolved," Morell wrote.
The senators suggest that Morell's version of information conflicts with theirs. They contend that, after a Senate Intelligence Committee review of more than 6 million records in an inquiry of the CIA's Detention and Interrogation program, enhanced interrogation by the agency did not yield valuable information, like the existence of a courier or the courier's identity. They say that the CIA detainee "who provided the most accurate information about the courier provided the information prior to being subjected to coercive interrogation techniques."
The lawmakers note that former top level officials, including Jose Rodriguez, former director of the CIA Counterterrorism Center, and former CIA director Michael Hayden, have publicly made "incorrect" statements that enhanced interrogations provided "critical lead information" in the hunt for Bin Laden. They are asking Morell for "specific examples of information that was obtained in a 'timely and effective' way from CIA detainees subjected to the CIA's enhanced interrogation techniques."
"When was this information provided: prior to, during, or after the detainee was subjected to the CIA's enhanced interrogation techniques?" they ask in the letter.
They also ask Morell to "please note whether such information corroborated information previously known to the CIA."
Sony did not comment on the latest letters, but following word on Wednesday that the Senate Intelligence Committee, headed by Feinstein, was making an inquiry into the filmmakers' access, a spokesman for the studio said, "As the studio distributing 'Zero Dark Thirty' in the United States, we are proud of this important film. Kathryn Bigelow, Mark Boal and their creative team have made an extraordinary motion picture and we fully support bringing this remarkable story to the screen." The filmmakers have previously said that "no single method was necessarily responsible for solving the manhunt, nor can any single scene taken in isolation fairly capture the totality of efforts the film dramatizes."