Surrounded by tropically colored shacks, one-screen venue CineCarioca Nova Brasilia sits proudly halfway up the Complexo do Alemao slum hillside, a once notorious Rio drug gang stronghold.
A modern white concrete hulk, Rio's first favela cinema — a state-of-the-art 3D theater to boot — Nova Brasilia opened in December 2010, weeks after Brazilian army battle tanks and armored cars chased the gangs out of the Alemao.
Selling 160,000 tickets over 2011-12, hitting a 67% occupancy rate, with 91% of its first-year clients never having been to a cinema before, Nova Brasilia is a symbol of regeneration.
So is its financier, the Rio town hall-backed film fund RioFilme, which celebrates its 20th anniversary in February.
RioFilme's modern-day build, like Brazil's at large, is explosive.
In 2008, RioFilme invested just $539,000 in Rio de Janeiro production. Rio, which was rebooted in 2009, significantly amped up investments to 51.5 million real ($25.4 million) in 2012.
Results have been spectacular. RioFilme invested in the nine of Brazil's 2012 top 10 homegrown hits (see box), including smash "Upside Down 2."
It also operates RioFilme Funcine Rio 1, an $8 million tax-driven equity fund for multiplex construction, teaming with the BNDES and Investe Rio banks and Lacan Investimentos. Add a new $7.35 million TV investment line and RioFilme now boasts far more financial muscle than any French regional film fund.
Reinvesting earnings, with a 100% return on investment in 2012, RioFilme also looks set to grow even more in the future.
RioFilme's build reflects its CEO's philosophy. "The only way to be competitive internationally is first to win your own market," says Sergio Sa Leitao. "Domestic strength is the key, especially in a huge market like Brazil's.
"Traditionally, Brazilian public-sector funding has taken a strict cultural approach to culture investment," he adds. "To be more competitive, we must add an economic and financial focus to it."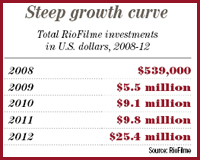 RioFilme also provides non-returnable grants for prestige productions and directorial debuts such as Cannes 2010 Special Screening "5 x Favela," a notably upbeat omnibus feature take on Rio slum life made by 80 favela-based filmmakers.
Some have now made a follow-up, Sa Leitao proudly notes: docu "Peace in Rio," about the city's favela pacification program.
"RioFilme has been crucial in its profoundly democratic and generous policy toward filmmaking and, above all, its support for diversity," says "Favela" producer Caca Diegues.
"RioFilme played a key role in Brazilian cinema at two distinct moments," says Brazil's most-reputed producer, Luiz Carlos Barreto. "During the 1990s, it served as the vital lifeline when all other funding resources dried up, ensuring that key films (such as) 'Central Station' reached screens. Since 2009, with new support from Rio's mayor and under Sa Leitao, it ushered in a new period of dynamism, supporting cinema and television alike, and embracing broad-audience commercial movies and auteur films pushing film language boundaries."
RioFilme is constantly changing its methods. Starting in February it will give 25 cents per ticket to indie Rio producers and distributors of Rio productions selling more than 200,000 tickets in the prior year. Beneficiaries can invest that coin in indie Brazilian films of their choice.
"We're dealing not with projects but companies and slates," Sa Leitao says. "This allows Rio's film industry to plan ahead companies know in advance how much money they can expect from us."
Also in February, RioFilme launches a $7.35 million TV investment line, matching every Real put up by Brazilian pay TV operators up to 30% of TV shows' budgets.
These stations are now obliged by law to air 3.5 hours of Brazilian content weekly, half independently produced. Producing Rio shows, operators can get double the bang for their buck, RioFilme COO Adrien Muselet points out.
Growth is one thing. How RioFilme's encourages both economic benefits and social inclusion — the so-called Brazilian model — is another. Take exhibition. RioFilme spent $1.5 million on Nova Brasilia.
"I was personally determined to provide not just a theater, but the best theater in the city," Sa Leitao says. The theater "creates new audiences for films, and incremental revenues for production and distribution companies."
When "Rio" premiered at the Nova Brasilia, Carlos Saldanha said it was the best "Rio" projection he'd seen to date. Sa Leitao was delighted
Nova Brasilia tickets cost just $2. The cinema will break even in 10 years, says Sa Leitao. Private-sector cinema chains might shy away from such lengthy recoupment. But it's one the Rio city government can shoulder.
A second RioFilme-backed theater, the three-plex Cine Carioca Meir, opened in September in a poor Rio area with no theaters, selling 5,000 tickets the first weekend.
RioFilme plans 10 more CineCarioca theaters in Rio in the next four years.
Martin Dale contributed to this report.
Powerhouse player has a hand in most top releases
In 2012, RioFilme was involved in the production or distribution — sometimes both — of nine of the top 10 Brazilian films at the box office
Movie
RioFilme involvement
Release date
Gross (in millions of $)
Producers
Distributors
1. Till Luck Do Us Part
Co-prod/distrib
Oct. 5
16.3
Gullane
Downtown Filmes, Paris Filmes
2. Did You … Score?
Co-prod/distrib
June 20
12.4
Globo, Case Filmes
Downtown Filmes, Paris Filmes
3. Party Crashers
Co-prod
Nov. 30
10.1
Conspiracao, Globo
Warner
4. Gonzaga: From Father to Son
Distrib
Oct. 26
6.9
Conspiracao, Globo
Downtown Filmes, Paris Filmes
5. Upside Down 2
Distrib
Dec. 28
5.7
Morena Filmes, Globo
Downtown Filmes, Paris Filmes
6. Agamenon: The Film
Co-prod/distrib
Jan. 6
4.4
Tambellini Filmes, Globo
Downtown Filmes, Paris Filmes
7. Totally Innocent
Co-prod/distrib
Sept. 7
2.7
Atitude Producoes, Migdal Productions
Downtown Filmes, Paris Filmes
8. Xingu
Distrib
April 6
2.1
02 Filmes, Globo
Downtown Filmes, Sony
9. Artificial Paradises
Co-prod/distrib
May 4
1.9
Zazen, Globo
Nossa
10. And Life Goes On
—
Sept. 17
1.8
Versatil Digital Filmes, Verouvir Producoes
Paris Filmes
RioFilme @ 20
RioFilme fuels Brazilian biz | Big players take control of market | Ups and downs of building biz | Duo helps industry develop | RioFilme's slate