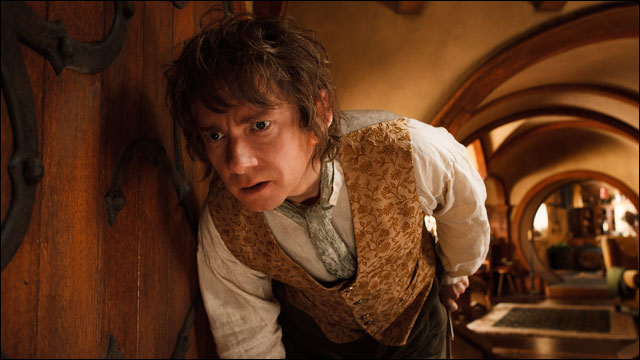 Banking on the success of "The Hobbit" (above) and "Skyfall," MGM is refinancing its debt in a deal that will give the Lion more financial flexibility than it's had in years, including the opportunity to invest more in its own films and possible new media acquisitions.
JP Morgan is leading a deal to rejigger MGM's current credit line from $500 million to about $650 million, Variety has learned. Banks and other lenders, including Bank of America and Royal Bank of Canada, have put together more than $600 million in commitments, according to multiple people with knowledge of the talks, and will officially launch a syndication for roughly $50 million Tuesday. Other terms of the deal, including interest rates, were not immediately clear.
MGM will use the money to pay back its studio partners, which have advanced MGM funds to co-finance projects including the latest "Hobbit" and "Skyfall." MGM declined comment; JP Morgan has a policy of not commenting on pending deals.
MGM may actually make use of its new coin in a way it hadn't previously: It'll be cheaper, meaning it may make more sense for MGM to finance more projects on its own, rather than co-financing or borrowing from partners. Those could include its remake of "Poltergeist," Joe Carnahan's "Death Wish" and Alex Timber's "Heck."
Refinancing takes advantage of competitive interest rates and boffo perfs from "Skyfall" and "The Hobbit," and the new capital comes with looser covenants than MGM's previous facility. Deal also comes as MGM prepares for a possible initial public offering later this year.
The Lion emerged from bankruptcy in 2010 with a $175 million credit facility and $325 million term loan. JP Morgan led a deal to convert both into a $500 million credit facility last year. The size of the latter deal and the number of lenders involved showed banks' renewed confidence in the company — especially in topper Gary Barber, who has made MGM increasingly attractive to Wall Street — which last year upgraded its debt rating — since taking over in 2010.
MGM's $500 million facility sheltered the Lion from the cost of money it wasn't using, and one source close to the company says that structure remains largely untouched. Still, the cost of that cash was high enough to make it cheaper for MGM to borrow money from Sony, or forego other distribution revenues.
While new capital will go toward paying Sony and Warner Bros. back for advances on two of last year's big tentpoles, sources familiar with the matter say that MGM will look at possible new media acquisitions and investments, although it's unclear what those may be. MGM has also actively been looking for ways to exploit its 4,000-plus-title library, much of which is out of its first distribution cycle. Some observers have speculated that MGM could be eyeing potential digital platforms that could revitalize older material. A number of traditional media companies have made recent plays in the digital distribution space, including Time Warner, which invested $36 million in multi channel YouTube network Maker Studios in December.
Part of MGM's appeal has been the creative ways it has funded and exploited its recent films and library. Barber, along with former chairman and CEO Roger Birnbaum (who recently transitioned to a producing role), secured distribution and co-financing deals with Sony for pics including "Skyfall," "Carrie," "The Girl With the Dragon Tattoo" and "21 Jump Street." They also partnered with WB on the three upcoming "Hobbit" films. (WB took over MGM's share of producing costs in exchange for international and homevid distribution).
In 2011, Barber and Birnbaum also renewed MGM's home entertainment distribution pact with 20th century Fox. Fox is handling homevid on "Skyfall," and released "Bond 50," the highest-grossing DVD box set of 2012.
Additionally, the pair are credited with increasing the company's international television operations. MGM TV shows created during the Barber-Birnbaum tenure include "Vikings" and "Teen Wolf"; MGM is also in development on the upcoming "reimagined" unscripted series "Fame" in partnership with Nigel Lythgoe.
Many in Hollywood are taking advantage of loosening credit markets. Village Roadshow and Lionsgate completed two of the largest restructurings in years last year, inking deals for a $1.4 billion facility and an $800 million facility, respectively.