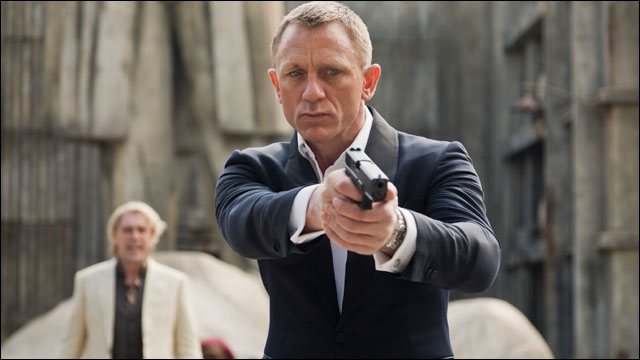 MGM will be a step closer to becoming a major studio once again on Friday, when the company closes a $650 million refinancing that will help the Lion fund ventures in new media and more of its own movies.
The plan, confirmed by multiple sources close to the transaction and reported by Variety on Jan. 7, banks on the boffo perfs of "Skyfall" and "The Hobbit: An Unexpected Journey," which have grossed a combined $2 billion worldwide since their openings late last year. "Skyfall," which earned $35.4 million in its first week in China, also sports the eighth-highest global gross of all time.
MGM declined to comment on the refinancing.
In December, MGM approached a number of large banks and secured commitments for the full $650 million. Led by JPMorgan, MGM decided instead to take $600 million from those banks — which included Bank of America and the Royal Bank of Canada — and syndicate the remaining $50 million to about a half-dozen smaller lenders.
Many companies might prefer a smaller group of banks, but a large group has one big advantage for MGM: The company may want to raise hundreds of millions, if not billions, more dollars over time as it seeks to expand its television operations and film production, and the more lenders already familiar with the company, the better.
The bank market has already responded well to MGM's activities since it emerged from bankruptcy in 2010: Last year, it converted a $175 million credit facility and a $325 million term loan into a $500 mill ion facility, and Friday's transaction will close oversubscribed at a lower interest rate.
In addition to funding new-media investments and between two and three films per year, MGM's latest deal (which expands its $500 million facility to $650 million) will allow MGM's investors to buy back more of its shares. After it bought most of Carl Icahn's 17.6 million shares in July, Anchorage Advisors became the largest MGM investor; it currently holds 25%-30% of the company, according to multiple knowledgeable sources. Anchorage is understood to have given MGM topper Gary Barber a lot of freedom to steer the company post-bankruptcy, according to one person familiar with the matter, and has generally supported the company's restructuring efforts.
Other investors include Highland Capital Management and Solus Alternative Asset Management.
Part of MGM's appeal since 2010 has been the way it has funded and exploited its recent films and library.
Barber, along with former chairman and CEO Roger Birnbaum (who transitioned to a producing role in October), secured distribution and co-financing deals with Sony for pics including "Skyfall," "Carrie," "The Girl With the Dragon Tattoo" and "21 Jump Street." They also partnered with WB on the three upcoming "Hobbit" films. (WB took over MGM's share of producing costs in exchange for international and homevid distribution.)
MGM has also partnered with Paramount on "Hansel & Gretel: Witch Hunters"; "G.I. Joe: Retaliation," due out March 29; and reboots of "RoboCop," due out Feb. 7, 2014, and "Hercules," starring Dwayne Johnson and planned for an August 2014 release.
MGM has been developing a handful of new projects, such as its recent acquisition of feature rights to Jojo Moyes' romance novel "Me Before You." But most of its activity has been focused on mining its library for revamps of such titles as "The Magnificent Seven," to star Tom Cruise; "Poltergeist" with Sam Raimi producing; "WarGames" with Seth Gordon directing; "The Town That Dreaded Sundown"; and "Death Wish," with Joe Carnahan directing.
But WB and Sony also had to advance MGM money to produce "Skyfall" and "The Hobbit," and the company is hoping it won't have it rely on such an arrangement in the future.
Those films and other recent releases have also helped boost the value of MGM's library, whose primary worth derives from television, and foreign TV syndicates in particular. MGM can bundle pics including "Skyfall," "The Hobbit," "21 Jump Street" with its 4,000-plus titles, most of which have realized their theatrical and homevideo value.
And capital for new production gives foreign buyers more confidence that additional pics are coming.
The Lion's internal television expansion has included "Vikings" and "Teen Wolf." MGM is also in development on a reimagined "Fame" as an unscripted series in partnership with Nigel Lythgoe. New television content is seen as key to MGM's revitalization as a major studio, and observers credit Barber and Birnbaum with spearheading the company's latest TV efforts.
MGM is also looking to exploit its older titles through various new-media ventures.
All of this has helped ready MGM for a potential IPO. In July, the studio filed documents outlining the prospect of an offering that could come later this year.