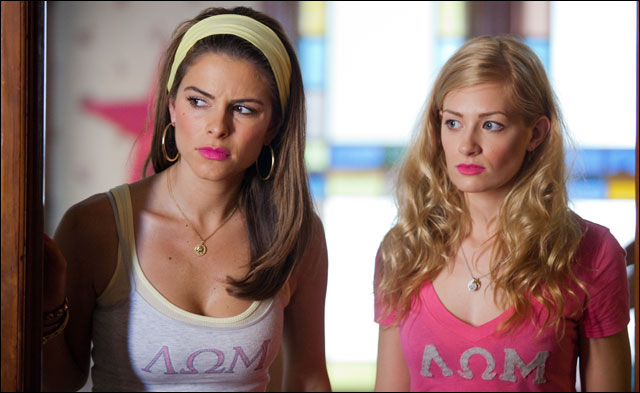 Maria Menounos and Beth Behrs star in "Adventures of Serial Buddies," which marks Menounos' feature producing debut.
After helping promote the films of celebrities as co-host of entertainment newsmag "Extra," Maria Menounos is ready to start hyping her own features.
AMC Theaters' independent division has picked up the distribution rights to the comedy "Adventures of Serial Buddies," which the exhib will release in five cities on March 8.
Menounos produced the low-budget film that stars Christopher Lloyd, Beth Behrs, Henry Winkler, Artie Lange, Kathie Lee Gifford, Chris McDonald, Menounos and introduces up-and-coming comics from Improv Olympic and the Groundlings. Menounos' longtime partner Keven Undergaro directed the pic, described as a serial-killer buddy comedy.
A former head writer for MTV, Undergaro developed the film after spending a decade working in the carnival biz.
"One season in the carnie business I became really good friends with a co-worker only to discover later he was a sociopathic killer," Undergaro said.
Menounos sparked to the idea after seeing how the project blends elements of "South Park," John Waters and Kevin Smith "while maintaining a voice that is uniquely, hilariously, its own," she said.
After "Serial Buddies" was offered to various distributors, AMC independent stepped up to give the film a limited release in New York City, Los Angeles, Boston, Chicago and San Francisco.
In addition to plugging the comedy to "Extra's" daily viewers, Menounos will promote the film to her fans on various social-media platforms, including the 573,000 that follow her on Twitter, and while endorsing products like Rickland Orchards' Greek Yogurt Bar.
"Through AMCi, we not only offer filmmakers the opportunity to reach audiences with a platform that might not otherwise be available, but we're also motivated to provide our guests with new and exciting choices of movies outside of the mainstream selection," said Nikkole Denson-Randolph, VP of alternative and special content at AMC.
With exhibs such as AMC increasingly looking for low-budget indies to pick up and unspool in their multiplexes, Menounos and Undergaro see the release strategy as "a great model for other filmmakers to follow" as they develop a growing slate of films across various genres.
In addition to their films, Menounos and Undergaro have also launched online broadcast network AfterBuzzTV.com, which produces recap after-shows for TV series. "My goal was always to produce," Menounos told Variety.