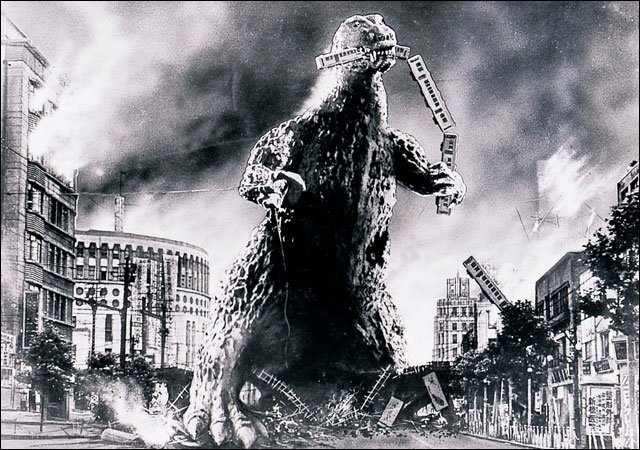 Attorneys in the dispute over Legendary Pictures' removal of three producers from "Godzilla" have agreed that a state court judge should decide a key issue over arbitration in the case.
Dan Lin, Roy Lee and Doug Davison sued Legendary and its president Jon Jashni on Jan. 17 over the production company's taking them off "Godzilla," accusing Legendary of trying to avoid paying the producers millions of dollars. Legendary had asked for a court order on Jan. 9 to let the studio move forward and filed an arbitration demand with JAMS Inc. (formerly Judicial Arbitration and Mediation Service) but JAMS has stayed those proceedings.
But both sides have agreed that Los Angeles Superior Court Judge Abraham Kahn should rule on the issue of the applicability of the arbitration provision in a 2011 draft agreement sent by Legendary to producers covering their producing activities. The suit asserted that since the agreement was never signed, the arbitration provision is not enforceable.
Legendary's complaint said the trio's efforts had consisted only of introducing a screenwriter and providing contributing notes that were not used. Legendary asserted that the compensation for all three under the agreement is limited to a $25,000 development fee.
The counterclaim asserts that the trio relied on that 2009 pledge and spent the next several years selecting screenwriters, developing the story, characters and screenplay and readying the movie for production. It also asserts that Legendary made an oral agreement in 2010 to pay the three producers a $25,000 development fee, fixed compensation of $1.3 million and contingent compensation of 3% of first-dollar gross receipts after the trio assisted Legendary in obtaining the "Godzilla" rights from Japan's Toho Co.
A spokeswoman for Legendary had no comment on the suit.
Legendary's Thomas Tull and Jashni remain as producers, along with Brian Rogers. Lin and Lee had been included as producers since the original announcement in 2010 in which Legendary also said "Godzilla" would be produced under its co-production and co-financing deal with Warner Bros. "Godzilla" is set for a March start of production, with Warner Bros. having set a May 16, 2014, release.
The counterclaim was filed by Larry Stein. David Fox of Myman Abell represents Lin, and Rick Genow of Stone Meyer represents Lee and Davison.