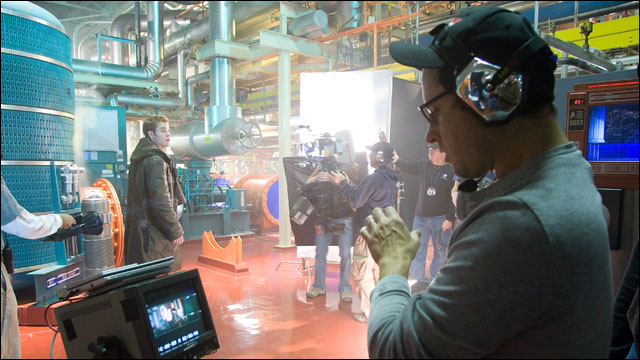 Hollywood has put its top two sci-fi franchises — "Star Wars" and "Star Trek" — in the hands of J.J. Abrams.
After successfully rebooting "Star Trek" for Paramount Pictures, Abrams now finds himself under pressure to keep the "Star Wars" franchise alive for Disney as it looks to monetize its $4 billion purchase of Lucasfilm.
The director is locking down a deal to helm the seventh film in the series, which the Mouse House hopes to release sometime in 2015.
It's one of the more high-profile jobs to become available in years, and instantly captured the attention of the entertainment biz. Names including Ben Affleck, Matthew Vaughn, Guillermo del Toro, David Fincher, Brad Bird and Jon Favreau were said to have been considered.
But in the end, it turned out to be Abrams' gig, with the helmer approached early on, at the strong suggestion of Steven Spielberg, to direct the next installment of what Abrams has long called one of his favorite movies.
While neither Disney, Lucasfilm nor his reps at CAA officially announced the deal, news of which was first posted Thursday on The Wrap, insiders at the companies, and Abrams' production shingle Bad Robot, confirmed that his involvement was a "done deal."
The Force seems to be with Abrams in terms of fan support, with discussion in social media on Thursday embracing the choice of Abrams in the director's chair.
Abrams will now work closely with Lucasfilm topper Kathleen Kennedy and scribe Michael Arndt to develop the next "Star Wars" pic, which is expected to launch a new trilogy of films and spinoffs that Disney hopes will lead to new TV shows, an expanded line of consumer products and theme park attractions.
The six existing "Star Wars" films have earned a total of $4.4 billion worldwide since the original bowed in 1977. The most recent, "Star Wars: Episode III — Revenge of the Sith," was released in 2005.
Arndt also has franchise experience, having penned "The Hunger Games: Catching Fire" "Toy Story 3," and the bigscreen version of Disney's "Phineas and Ferb" animated series. His sci-fi experience includes writing the upcoming Tom Cruise vehicle "Oblivion."
But Abrams must first wrap up directing and producing duties on "Star Trek Into Darkness," which is due out May 17.
Upon brokering the deal with Disney last October, George Lucas said, "It's now time for me to pass 'Star Wars' on to a new generation of filmmakers."
Disney is looking to minimize the "creative risks" associated with producing big-budget tentpoles, according to Walt Disney Co.-chief Robert Iger, who told producer Brian Grazer, at the HRTS Newsmaker Luncheon on Wednesday, that he often worries about the company's ability to sustain creative success.
With Abrams, Disney is putting its trust behind a multihyphenate who has launched a mini creative empire of writers, directors and producers through Bad Robot with a growing list of successful TV shows and films. His first film was the third "Mission: Impossible," also for Paramount.
But it took a little coaxing for Abrams to head to a galaxy far, far away.
While Abrams has called "Star Wars" one of his favorite films, he confirmed to Empire magazine in December that there were early conversations but "because of my loyalty to 'Star Trek,' declined any involvement very early on.
"I'd rather be in the audience not knowing what was coming, rather than being involved in the minutiae of making them," he said then.
But Kennedy wouldn't give up courting Abrams until he accepted the challenge, setting aside the intimidating nature of the job.
Abrams told Hollywood Life earlier in November that the "Star Wars" directing job "comes with the burden of being that kind of iconic movie and series. I was never a big 'Star Trek' fan growing up, so for me, working on 'Star Trek' didn't have any of that, you know, almost fatal sacrilege, and so I am looking forward more than anyone to the next iterations of 'Star Wars,' but I believe I will be going as a paying moviegoer!"
Not anymore.