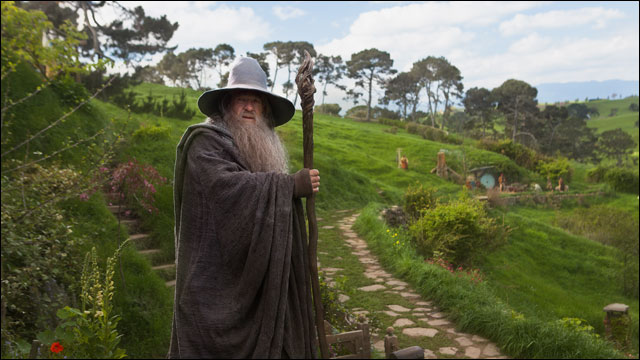 Managing to stave off holiday newcomers, Warner Bros.' "The Hobbit: An Unexpected Journey" reigned supreme at the New Year's Day box office, grossing $9.5 million Tuesday for a domestic cume of $238.1 million.
In second place, the Weinstein Co.'s "Django Unchained" posted $9.2 million, followed by Universal's "Les Miserables," with $7.6 million on Tuesday.
The holiday pair have been trading places daily since bowing Christmas day. "Les Mis," with $80.6 million domestically, had a hearty head start, thanks to advanced ticket sales; "Django" has cumed $77.8 million Stateside.
New Year's Day always sees strong moviegoing, and this year, at roughly $54 million total, daily B.O. ended 27% ahead of the same holiday in 2012.
Also helping push the New Year's Day needle, Fox's "Parental Guidance" grossed $4.5 million, bringing its eight-day Stateside cume to nearly $40 million, while Paramount's "Jack Reacher" earned just north of $4 million, for a $50 million-plus domestic total in 12 days.
In limited release, Sony's "Zero Dark Thirty" totaled $116,339 on Tuesday, which averaged $23,268 from five locations. Summit's "The Impossible," meanwhile, earned nearly $70,000 at 15, for a daily per-screen average of almost $5,000. "Zero Dark Thirty" has cumed $1.6 million domestically; "The Impossible," just shy of $600,000.