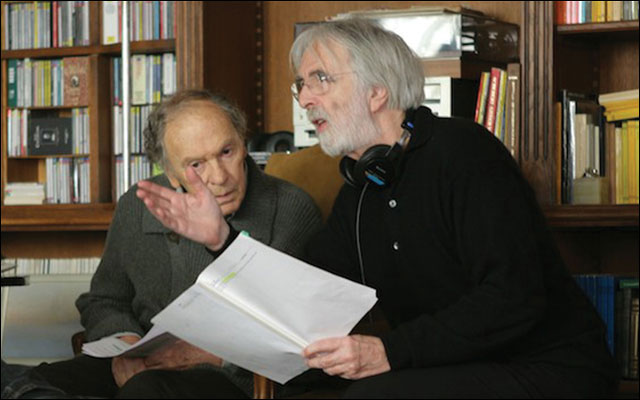 Don't be fooled by the piercing eyes and solemn-looking beard. Michael Haneke loves frivolous entertainment as much as the next person. "I adore American musicals, which can be fantastic," says the "Amour" director. "They are made at such a high artistic level, and after two hours, I come out smiling."
But there are cinematic diversions and then there are art films, and a career in drama has taught the Austrian auteur that he excels at the latter: open-ended films full of questions and ambiguity that "capture the contradictory complexity of life," in his words.
"I like to watch comedies, but I can't do them," he admits. The son of two actors, Haneke was told by his stepfather at a young age that he didn't have enough talent for the spotlight, so he decided to focus on philosophy and psychology at university instead.
Given his artistic upbringing, however, Haneke was drawn back to the theater, directing several plays — "all tragedies, only one comedy," he says, "and it was a disaster" — and myriad TV movies before finally making the transition to film.
Though he now coaches twentysomethings on directing at Vienna's Filmakademie, Haneke points out that it took 46 years for him to find his own voice. That wait explains the maturity and mastery critics see in his work, which grows richer with each subsequent project.
"I consider the production of all art, and also the reception of art, as an act of love," he says. "And that suggests a different way of telling stories, to take the audience seriously, rather than to console them with overly simple things, to use their fantasies and intelligence so they leave a tiny bit different than when they came in. I don't believe you can change people with a film or a book, but when taken all together, I think they can improve life."
HOME | Ang Lee >>