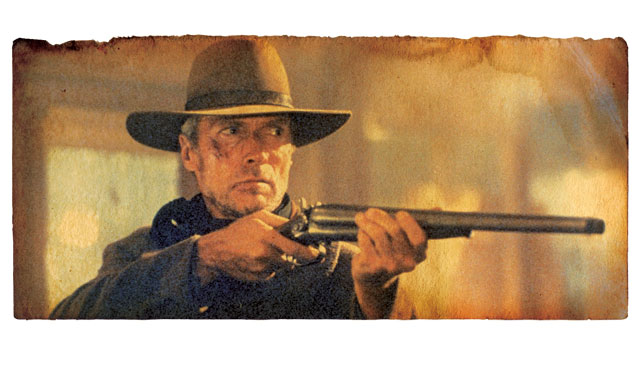 As a form of year-end review, the Oscars are a bit like the stock market. Every now and then the closing bell can ring with extra zest.
Most observers consider 1939 a bull year for the movies. It's hard to argue when you look at some of the best picture nominees: "Gone With the Wind," "Stagecoach," "Ninotchka," "The Wizard of Oz" and "Of Mice and Men." And it's hard to argue about the quality of 1954. Films released that year include "On the Waterfront," "A Star Is Born," "Rear Window" "Sabrina" and "The Caine Mutiny."
From a director's perspective, however, the helmers that battled for Oscar 20 years ago still resonate today, especially one actor-turned-director.
Neil Jordan's "The Crying Game" had that unforgettable single shot with silky Jaye Davidson appearing post-ablution bedside with the blunt, unexpected addition that shocked Stephen Rea and the rest of the world.
James Ivory, with partner Ismail Merchant, once again proved themselves the Rolls Royce of moviemakers in "Howards End," and Robert Altman's casually stinging satire of the picture business, "The Player," had instant classic written all over it.
But 1992 was the year of Clint Eastwood. "Unforgiven," which won best picture, grossed more than $100 million domestically, had a stellar cast in Morgan Freeman, Gene Hackman, Richard Harris and a memorable performance from Jaimz Woolvett as a young bounty hunter whose visions of gunslinger grandeur are seen through eyes that don't quite track.
The story on Oscar night, however, was Eastwood, who won for director and was nominated for lead actor. The film had eight nominations in all, and in David Webb People's script delivered one of the memorable lines of any Western: "It's a helluva thing, killin' a man. You take away all he's got and all he's ever gonna have."
Looking back, "Unforgiven" remains more than a celebratory cleanup act on Oscar night. It affirms the possibility of great second acts in American life.
In 1992, Eastwood already had decades of work under his belt both as actor and director. By the 1960s his haiku acting style as the Man With No Name in Sergio Leone's hugely successful series of spaghetti westerns was so definitive that critics judged subsequent Eastwood roles by how Clint-like they were. His Dirty Harry series answered the deep middle-class anxiety that met the outbreak of drugs and violence in '70s urban America. And anyone who refers to "Fatal Attraction" as the definitive view of Sophoclean female fury has forgotten "Play Misty for Me," the terrifying 1971 psychological thriller in which Eastwood starred and made his directorial debut.
But by the end of the '80s, it looked like Eastwood was entering his sunset years. He had already joined the small pantheon of epic male screen figures such as John Wayne and Gary Cooper and his films in total grossed more than $1 billion. But he was looking at 60, Hollywood's elephant graveyard of leading roles. Does anyone remember 1989's "Pink Cadillac"?
Then came "Unforgiven."
"In the past," Eastwood told Cahiers du Cinema at the time, "there were a lot of people killed gratuitously in my pictures. What I liked about this story was that people aren't killed and acts of violence aren't perpetrated without there being certain consequences. That's a problem I thought was important to talk about today. It takes on proportions it didn't have in the past, even if it's always present through the ages."
Adds Bob Birchard, editor of the AFI film catalog, "'Unforgiven' is only one of three westerns ever to win an Oscar (the others are "Cimarron" and "Dances With Wolves"). It's Eastwood's breakthrough film, almost an anti-Western, and unique because it doesn't glorify gunbattles and it shows the damaging effect on the psyche of people who experience violence.
"One of the things I find most interesting is how Eastwood's later films are at odds with his avowed politics. 'Unforgiven' could be construed as anti-gun. 'Million Dollar Baby" could be characterized as pro-choice."
" 'Unforgiven' was a career-changing movie," says Peter Rainer, film critic for the Christian Science Monitor. "It was the kickoff for darker, complex movies like 'Mystic River.' It isn't as much a revisionist western as much as it is a movie that revealed Eastwood's evolving philosophy."
After Sandy Hook and other horrendous shooting incidents occurring in the country, 2012-13 has echoed "Unforgiven" all over again, with Eastwood questioning the value of life. He showed how none of the young soldiers opposing each other in "Flags of Our Fathers" and "Letters From Iwo Jima" wanted to die while examining death through the devastation of a tsunami in "Hereafter."
These are the painful and moving discoveries of many of Eastwood's later films, as is his example that talent has no sell-by date.
Eye on the Oscars 2013: The Director
Previous films shape current projects | Last 10 years bring surprises and snubs | Eastwood's 'Unforgiven' still resonates 20 years later | Nominated directors look ahead