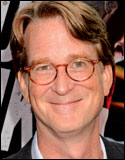 David Koepp has crafted screenplays for four blockbuster franchises and is working on reviving another as he heads towards his 50th birthday.
The scribe, a UCLA grad raised in Wisconsin, wrote the original "Jurassic Park" as well as "The Lost World" follow-up, along with "Mission: Impossible," the 2002 "Spider-Man" starring Tobey Maguire, and "Indiana Jones and the Kingdom of the Crystal Skull." His latest project, the reboot of Tom Clancy's Jack Ryan franchise, is due in theaters this Christmas.
Koepp also penned "Death Becomes Her," "Panic Room," "Angels & Demons" and "War of the Worlds," along with two films he directed, "Ghost Town" in 2008 and "Premium Rush" last year.
The award, presented for career achievement in film, is named for the longtime guild member whose film credits include "A Woman of Distinction." Blacklisted in the 1950s, Hunter wrote several TV series under a pseudonym before receiving credit for his smallscreen efforts under his real name.
WGA Awards 2013
WGA nominees spice up history with diverse approach
HONOREES
Tom Stoppard | Tony Kushner | Phil Rosenthal | Matt Groening | David Koepp | Daniel Petrie Jr. | Akira Kurosawa, Shinobu Hashimoto, Ryuzo Kikushima & Hideo Oguni | Joshua Brand and John Falsey