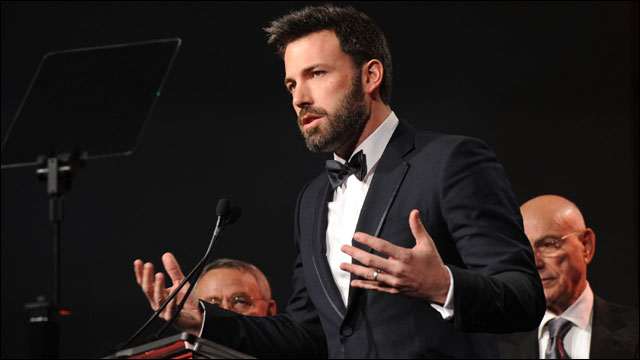 Above: "Argo" director/star Ben Affleck accepts the Ensemble Performance Award onstage during the 24th annual Palm Springs International Film Festival Awards Gala.
Stars and filmmakers alike were in a reflective mood at the Palm Springs Film Festival Award gala Saturday night, as films with serious subject matter dominated the event. The evening unspooled with a hefty selection of talent repping this year's kudos buzz pics. Fest supporters and bizzers who turned out for the event were happy to pay tribute to seasoned stars Sally Field, Richard Gere, Helen Mirren and Alan Arkin as well as relative youngsters Helen Hunt, Naomi Watts and Bradley Cooper.
The crowd particularly liked Diane Lane's slightly risque summation of Richard Gere's career, as the star accepted the Chairman's award for his charity work.
Hunt told her "The Sessions" co-star John Hawkes, who presented her with the Spotlight award, "I feel so lucky to have gotten to dance with you, albeit naked and in bed." Director award winner Robert Zemeckis said of "Flight," I didn't only want to make this movie, I wanted to see this movie." Tom Holland, teenage co-star of "The Impossible," told Watts that he's only familiar with her role in "King Kong," since his father wouldn't let him watch "Mulholland Drive."
Ang Lee presented the Frederick Loewe music award to "Life of Pi" composer Mychael Danna, who talked about how his time teaching in India helped him decide to stay in the film business.
Tom Hooper received the Sonny Bono Visionary award, explaining the technical considerations that went into shooting live singing for "Les Mis" with silent clothing and sets, while Bono's widow Mary Bono Mack observed that Saturday was the 15th anniversary of the death of the singer and Palm Springs mayor, who played an integral role in launching the festival.
Mirren, accepting the International Star award, implored the audience to "Watch films with subtitles — it's not that hard!" The Palm Springs audience probably doesn't need to be reminded, since screening rooms are packed during the festival for films from dozens of countries.
David O. Russell talked about his personal connection to the subject matter of "Silver Linings Playbook" while presenting the actor award to Bradley Cooper, who was serenaded on his birthday by the gala's host Mary Hart and the entire audience.
"Lincoln" co-star Sally Field received a standing ovation for the lifetime achievement award, fondly reminiscing about about her absurd moments in the business, like flying into John Wayne's arms at the Golden Globes, and her sublime moments, like romancing Paul Newman.
Wrapping up the show, former CIA agent Tony Mendez gave the ensemble award for to Ben Affleck, whose character in "Argo" was based on Mendez, and to Arkin and Bryan Cranston.