If you're Lora Kennedy, casting director for the SAG-nommed ensemble of Warner Bros.' "Argo," how do you know your troupe of 130 actors will click?
"You pray. You really do," says Kennedy.
One of Kennedy's challenges was to ensure that the actors would be able to quickly establish character.
"The actors come in and out very swiftly," she says. "The film moves so fast that we don't have time to get to know anybody in detail. So, I tried to create the faces that would do that for the audience."
The process began simply: Kennedy and helmer Ben Affleck pinned actors' photographs to a large board.
"Ben and I put their pictures up everywhere. We'd go, 'Well, that guy kinda looks like that guy so if we want to create some distinction, we should move him over here," Kennedy says. "I had to make sure that Clea DuVall and Kerry Bishe looked very distinctive because they were going to be together a lot. I had the State Department, the White House, the CIA guys, the protesters, the hostages, the embassy workers. And with the Hollywood types, I tried to do something different. As you start to build it, you can see if you've got it. And after we did all this work, had all these options, it boiled down to, 'But, who's really the best actor?' "
For the SAG-nommed ensemble of Touchstone's "Lincoln," Avy Kaufman cast as closely as she could to the historical figures, beginning with the face. In libraries and online, Kaufman spent months of research, trying to get as close as she to the actual figures.
"It was something I wanted to nail," she says. "I felt I owed it to those historical figures. For example, Ulysses S. Grant was kind of hard. I would give Steven Spielberg a list of actors. Daniel Day-Lewis looked like Lincoln and I wanted to follow that path. And Hal Holbrook was on a list of wonderful older actors who could play Preston Blair. With Tommy Lee Jones, I was looking for Thaddeus Stevens. And with Tad Lincoln, I think I saw every little boy in New York, Los Angeles and Canada. Then in London, out of the blue, I happened to see this picture in a magazine. Gulliver McGrath was perfect. It's funny where you find things."
For Kaufman, putting an ensemble together is also a question of listening to her gut.
"I've done tons of ensembles, but it's like a painting," she says. "You've got to make sure those colors go together."
"Frightening" is the word Nina Gold uses to describe casting the SAG-nommed ensemble of Universal's "Les Miserables."
"Before we started, we didn't really know that it was possible to achieve that level of emotionally complex story telling and fulfill the musical needs at the same time," Gold says. "That was the big question.
"Beyond the usual thing of everybody just having to work together in some kind of symbiosis, they also had to work together musically. And there are so few people that can really deliver that kind of emotional intensity."
The "Les Mis" casting room was pretty full, including director Tom Hooper, producer Cameron Mackintosh, conductor Stephen Brooker, orchestrator Anne Dudley and Gold, of course.
"Hugh Jackman was the first person we cast," recalls Gold. "Then we had to have someone with incredible stature and depth and power to play opposite Hugh. And Russell Crowe was a real challenge to Hugh. Then, Amanda Seyfried had to work as Hugh's daughter. And as a trio, they really had to work together with Eddie Redmayne.
"Each little part joins up with the last little part and together it works. And we knew that Anne Hathaway had the voice. The minute she came into the room and opened her mouth, it became really obvious."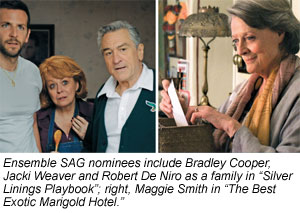 Casting two supporting roles in the SAG-nommed ensemble of the Weinstein Co.'s "Silver Linings Playbook" proved to be the big challenge for Mary Vernieu and Lindsay Graham: Who to play Bradley Cooper's mom and dad?
"We were trying to find a woman who had not worked with Robert De Niro before and who could make Bradley feel he was the son of De Niro and whoever we cast as the wife," Vernieu says. "We had seen Jacki Weaver in 'Animal Kingdom.' Jacki was a good physical match as well. In the film, she's not saying a whole lot but her character comes to life just by who she is."
For Seher Latif and Michelle Guish, casting directors of Fox Searchlight's "The Best Exotic Marigold Hotel," also SAG-nommed for ensemble, the goal was not to cast an all-headliner ensemble but actors who would embody those roles in a way auds had not seen before.
"They had clearly written characters, each with distinct personalities and individual emotional and comic journeys that you could relate to and laugh at," says Latif, who believes the "Hotel" ensemble works especially well because every actor has a moment. "No one person's story is treated more or less significantly. In this film, everyone left you with something."
For example, Maggie Smith's character:
"She doesn't interplay with anybody for ages," says Guish. "But she pinches every scene she does. It doesn't mean the actors working with her lose. Maggie is very much part of the ensemble. I loved it when they're all on the bus and Bill Nighy accepts an offer of food and Maggie Smith says, 'If I can't pronounce it, I won't eat it.' Brilliant!"
And the other SAG Award nominees are….
Outstanding Perf by a Male Actor in a Lead Film Role
Bradley Cooper, "Silver Linings Playbook"
Daniel Day-Lewis, "Lincoln"
John Hawkes, "The Sessions"
Hugh Jackman, "Les Miserables"
Denzel Washington, "Flight"
Outstanding Perf by a Female Actor in a Lead Film Role
Jessica Chastain, "Zero Dark Thirty"
Marion Cotillard, "Rust And Bone"
Jennifer Lawrence, "Silver Linings Playbook"
Helen Mirren, "Hitchcock"
Naomi Watts, "The Impossible"
Outstanding Perf by a Male Actor in a Supporting Film Role
Alan Arkin, "Argo"
Javier Bardem, "Skyfall"
Robert De Niro, "Silver Linings Playbook"
Philip Seymour Hoffman, "The Master"
Tommy Lee Jones, "Lincoln"
Outstanding Perf by a Female Actor in a Supporting Film Role
Sally Field, "Lincoln"
Anne Hathaway, "Les Miserables"
Helen Hunt, "The Sessions"
Nicole Kidman, "The Paperboy"
Maggie Smith, "The Best Exotic Marigold Hotel"
Outstanding Perf by a Stunt Ensemble in a Film
"The Amazing Spider-Man" (Columbia)
"The Bourne Legacy" (Universal)
"The Dark Knight Rises" (Warner Bros.)
"Les Miserables" (Universal)
"Skyfall" (Columbia)
Outstanding Perf by an Ensemble in a TV Drama Series
"Boardwalk Empire" (HBO)
"Breaking Bad" (AMC)
"Downton Abbey" (PBS)
"Homeland" (Showtime)
"Mad Men" (AMC)
Outstanding Perf by an Ensemble in a TV Comedy Series
"30 Rock" (NBC)
"Glee" (FOX)
"Modern Family" (ABC)
"Nurse Jackie" (Showtime)
"The Office" (NBC)
Outstanding Perf by a Stunt Ensemble in a TV Series
"Boardwalk Empire" (HBO)
"Breaking Bad" (AMC)
"Game Of Thrones" (HBO)
"Sons Of Anarchy" (FX)
"The Walking Dead" (AMC)
Outstanding Perf By A Male Actor in a TV Movie or Miniseries
Kevin Costner, "Hatfields & Mccoys"
Woody Harrelson, "Game Change"
Ed Harris, "Game Change"
Clive Owen, "Hemingway & Gellhorn"
Bill Paxton, "Hatfields & Mccoys"
Outstanding Perf by a Female Actor in a TV Movie or Miniseries
Nicole Kidman, "Hemingway & Gellhorn"
Julianne Moore, "Game Change"
Charlotte Rampling, "Restless"
Sigourney Weaver, "Political Animals"
Alfre Woodard, "Steel Magnolias"
Outstanding Perf by a Male Actor in a TV Drama Series
Steve Buscemi, "Boardwalk Empire"
Bryan Cranston, "Breaking Bad"
Jeff Daniels, "The Newsroom"
Jon Hamm, "Mad Men"
Damian Lewis, "Homeland"
Outstanding Perf by a Female Actor in a TV Drama Series
Claire Danes, "Homeland"
Michelle Dockery, "Downton Abbey"
Jessica Lange, "American Horror Story: Asylum"
Julianna Margulies, "The Good Wife"
Maggie Smith, "Downton Abbey"
Outstanding Perf by a Male Actor in a TV Comedy Series
Alec Baldwin, "30 Rock"
Ty Burrell, "Modern Family"
Louis C.K., "Louie"
Jim Parsons, "The Big Bang Theory"
Eric Stonestreet, "Modern Family"
Outstanding Perf by a Female Actor in a TV Comedy Series
Edie Falco, "Nurse Jackie"
Tina Fey, "30 Rock"
Amy Poehler, "Parks And Recreation"
Sofia Vergara, "Modern Family"
Betty White, "Hot In Cleveland"
Screen Actors Guild Awards 2013
Casting is a troupe effort | Merger makes for few bumps | SAG honors Dick Van Dyke