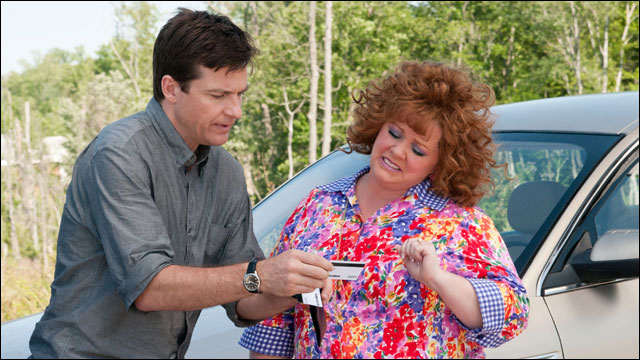 Hollywood will be piling on the gold this weekend, just not at the box office.
With only a pair of modestly tracking openers bowing Oscar weekend, holdovers will rule the domestic B.O., particularly Universal's resilient laffer "Identity Thief," which could reclaim the top spot in its third frame. Last weekend, "Thief" dropped only 32% for $23.7 million, behind Fox's "A Good Day to Die Hard" ($24.8 million).
"Thief" has already grossed $78 million Stateside and should add something in the mid-to-high teens if it holds as well as last week; "Die Hard," with $40 million, should see a steeper drop. Relativity Media's "Safe Haven," totaling $36 million so far, also could vie for a top spot.
The only wide newcomers are Summit's Dwayne Johnson thriller "Snitch," at 2,511 locations, which should gross between $10 million-$12 million, while the Weinstein Co.'s chiller "Dark Skies" launches at 2,313 theaters tracking in the high single digits.
Internationally, "A Good Day to Die Hard" should again earn top placement, with seven new territories including Brazil and France. The film enters its soph sesh with roughly $100 million overseas.
Meanwhile, Warner Bros.' "The Hobbit: An Unexpected Journey" prepares for its last overseas hurrah, bowing today in China. Pic's mainland perf should be enough to push it past $1 billion globally, with $960 million already.
Oscar-nominated holdovers should see solid B.O. bumps: Weinstein's best pic contender "Silver Linings Playbook," which crossed $100 million domestic last weekend, should experience the largest boost as the newest nominee to open nationwide. Warner Bros.' "Argo" and Disney-DreamWorks' "Lincoln" also continue to drop modestly week-to-week.
Domestically, "Lincoln" is this year's highest-grossing pic nominee, with $177 million; "Argo" reached $127.7 million through Wednesday.
Last weekend, Sony Pictures Classics expanded five-time Oscar contender "Amour" to 306 engagements, where it earned top grosses from in retiree-heavy markets including Honolulu and Naples, Fla. Pic adds only 28 locations this weekend, totaling $4 million so far domestically.
It's typical for action pics and scarers to launch Oscar weekend; Relativity's "Act of Valor" launched this time last year, as did Tyler Perry's "Good Deeds," from Lionsgate, and Universal's "Wanderlust."
"Snitch" stars Johnson as a father whose teenage son is wrongly accused of being a drug dealer and goes undercover to prove his innocence. Summit acquired U.S. rights to the film in the low-single digits.
Likewise, Weinstein has limited exposure on "Dark Skies," fronting only the P&A costs. The low-budget chiller, from "Paranormal Activity" producer Jason Blum, stars Keri Russell and Josh Hamilton as parents whose family is attacked by a sinister supernatural force.
In limited release, Arenas' adaptation of Rudolfo Anaya's "Bless Me, Ultima" expands today to 263 Stateside locations. The film has been playing exclusively at a few theaters in New Mexico and Texas, totaling nearly $500,000 so far.