Studios don't just compete for box office grosses: each lot has a well-oiled special events team that vies for not only high-profile film and TV premieres but also product launches, food events and glossy benefits. On-site event departments promote assets (Paramount's New York street or Universal Studios' thrill rides), and these dedicated teams can coordinate functions, augment decor (sometimes with studio props), provide entertainment, catering and more.
From the studio side, events are a revenue stream that monetize existing infrastructure. For these planners, backlots offer mega-budget production values in secure locations that ooze genuine Hollywood history. Other positives: skilled personnel schooled in dealing with tight production and fabrication deadlines and pleasing oversized-personalities.
"There's many advantages for events from exclusivity, to that magical feeling when you drive onto the lot," says Heidi Geier, senior vice president, consumer services, studio group, Paramount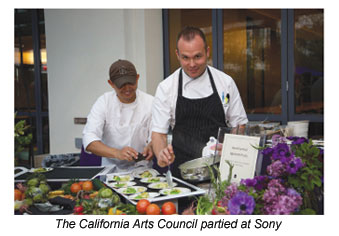 Pictures. Geier says the studio has always been a "great place to have events"; however, in the past two years, Paramount's special events staff has made a concerted effort to leverage all the studio's departments from special effects to the lot's mill. "We've brought them into special-events world," she says.
Rather than just four-walling an event, studio staff design and create events under exec director of special events Michael Maines. Jaguar, Range Rover and MasterCard hosted events in 2012 on the lot that sees 200 events annually (100 are internal efforts, per Geier); the Taste (produced with the Los Angeles Times and Best Events) welcomed close to 20,000 over the Labor Day Weekend.
For non-pro hosts, a studio name adds value, says Best Events' vice president of special projects Justin Cohen, and there is cost effectiveness in the package, which can include on-site permitting, studio fire department personnel and parking. One drawback, particularly for exterior lot locations, is there is no ability to change the look. And booking soundstages can be hampered by shooting schedules that can get pushed or are undetermined months out.
But studios are adept at making overlay with productions work.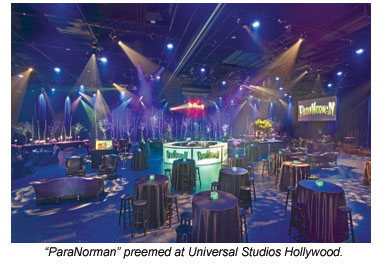 In November, Warner Bros. Events quickly transformed Soundstage 29 between "The Big Bang Theory" and "Hangover Part III" bookings for a Providence St. Joseph Foundation fundraiser.
As Judy Ranan, executive director of the Cystic Fibrosis Foundation's Los Angeles office explains, producing fundraisers on a studio lot increases its appeal to donors. The org's annual Culinary Evening with the California Winemasters event for 1,400 (which raised more than $1 million in 2012) is booked for Warner Bros. Midwest Street.
"There's a major draw to go a wine and food event on the lot," says the exec, whose org also produced a highly successful fundraiser on Universal's Wisteria Lane. "As a nonprofit, we've had terrific experiences working with studios."
Event Production Guide 2013
Biz digs battle of the backlots | Big spaces set pace for season | New Yorkers rally in Sandy's aftermath