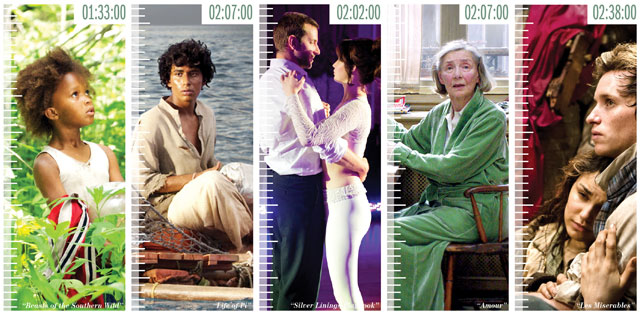 Anyone watching all nine best picture candidates this Oscar season needed to set aside a little time. Make that a lot of time.
Eight of this year's nine Oscar nominees for best picture clock run for at least two hours, with 93-minute "Beasts of the Southern Wild" the exception.
"Oscar contenders tend to be serious, or important with a capital 'I' movies with hefty running times," notes film critic and historian Leonard Maltin. "So it's not unusual. Even so, this year is pushing the boundaries to a new extreme in length."
While some might argue — perhaps ironically, given the Oscar nominations flying about — that quality is being sacrificed on the altar of bloat, others suggest the longer films are giving audiences what they want.
"When you go to the cinema, you want a massive experience, value for money, set apart from the small screen – you're going to want a sensory experience," says "Les Miserables" producer Deborah Hayward.
At 158 minutes, "Les Mis" may have the greatest precedent for going long: It was cut back from a three-hour-plus stage version, and traditionally musicals are hefty works – "The Sound of Music" and "West Side Story" each topped the 150-minute mark.
Still, directors with established pedigrees are often the source of longer films, since studio executives tend to give them leeway. Ang Lee's first cut of "Life of Pi" (127 minutes) was three hours, for example.
"People are predisposed to want to see what he puts into the marketplace," says producer Gil Netter, "so if that means they give him more grace – it's because he's earned it."
Vanity Fair contributing editor and film historian Peter Biskind wishes there was a little less grace from the studios.
"Every film I see could have benefitted from being cut by 10 minutes to a halfhour," he says.
But this is no new trend, he adds: Movies have been growing since technology changed in the 1960s, and then "auteur" directors in the 1970s pushed studios to bend to their desires.
"Now a lot of directors look at the 1970s for their role models, see directors who refused to compromise — and they call the shots," Netter says.
As an actor who appeared in some of those big 1970s movies and who occasionally directs his own, acting nominee Robert De Niro (whose "Silver Linings Playbook" is 122 minutes) says directors need to take care not to fall in love with their work.
"You have to be prepared to step out of yourself, and it's not easy – to shrink and make the point quicker," De Niro says. "It's tricky: The studio wants it to be a certain length, so they can run it another time and get another audience in there to make that money. It's not that they're not empathetic, but there's also a part that needs to be practical."
"Amour" (127 minutes) might have the oddest provenance for growing long. The script, says producer Margaret Menagaux, was just 69 pages and 105 minutes. But director Michael Haneke let it go much longer, once the film rested on the performances of eightysomethings.
"To move, to stand up, to sit down – it takes more time (for older actors), and it was right to take this time," she explains. "It was correspondent to the characters."
No matter the reasons behind making longer films, they wouldn't exist if audiences didn't show up. But they are: Since 2005, each year's top-grosser at the box office (except for 2010's "Toy Story 3") has exceeded two hours. No wonder the prestige, important-with-a-capital-I films are also going for the long haul.
"This is the irony," says Maltin. "We're repeatedly told that today's generation has a shorter attention span – yet they seem willing, if not eager to sit through bloated movies. I'm stumped by that."
It may come down to expectations: Directors want to give, and audiences are ready to take, and with ticket prices increasing, perhaps anything less than two hours is just not enough any more. It seems to be the case overseas already, notes Menagaux.
"In Europe, when you announce a film that is one hour and thirty minutes long, which was a normal length in the 1970s and 1980s, audiences feel it's little bit short – it's not a whole evening," she says. "It takes a lot of energy to leave your house, take the Metro, go to the cinema and buy your ticket. You're not going to do this for just one hour and thirty minutes."
Running times of recent Oscar best picture winners
2011: "The Artist" — 1:40
2010: "The King's Speech" — 1:58
2009: "The Hurt Locker" — 2:11
2008: "Slumdog Millionaire" — 2:00
2007: "No Country for Old Men" — 2:02
2006: "The Departed" — 2:31
2005: "Crash" — 1:52
2004: "Million Dollar Baby" — 2:12
2003: "The Lord of the Rings: The Return of the King" — 3:21
2002: "Chicago" — 1:53
Eye on the Oscars 2013: Best Picture
Are directors behind punishing run times? | The upset that wasn't an upset: 'Shakespeare in Love'
Critics praise, punch nominees
Pointed critiques accompany plaudits for the contenders, giving voters plenty to chew on
"Amour" | "Argo" | "Beasts of the Southern Wild" | "Django Unchained" | "Les Miserables" | "Life of Pi" | "Lincoln" | "Silver Linings Playbook" | "Zero Dark Thirty"