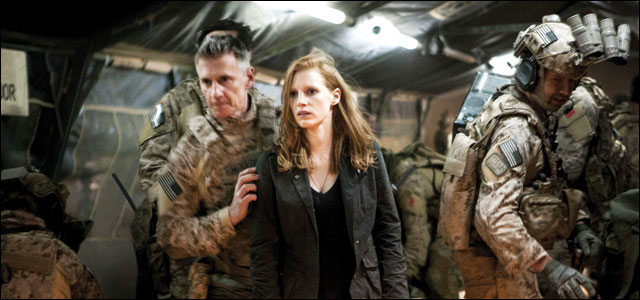 The outcome of the nighttime raid on Osama bin Laden's compound in Pakistan is widely known: America's most wanted terrorist was taken down by a team of Navy SEALs.
In "Zero Dark Thirty," directed by Kathryn Bigelow, many critics found the story behind the painstaking, decade-long search for the Al Qaeda leader to be captivating.
"Slow-burning and brilliant," said Steven Rea of the Philadelphia Inquirer in his review, while Peter Howell of the Toronto Star wrote that the movie "turns a spy-trade procedural into the most white-knuckle of thrillers."
Jessica Chastain's Oscar-nommed portrayal of the determined CIA analyst Maya, who puts together the puzzle that leads the U.S. to 9/11 mastermind's doorstep, was compared favorably by several critics with Jodie Foster's FBI agent in "The Silence of the Lambs" or Claire Danes' CIA officer in "Homeland."
A different TV series came to mind for Tom Long of the Detroit News, who wrote that the 157-minute drama resembles "an elongated (very elongated) episode of 'Law & Order' as Maya chases leads, tries to convince others she's right, survives random attacks and looks Hollywood-hot in sunglasses gazing out on dusty deserts."
But Richard Corliss has no such qualms about the movie's length or pacing. " 'ZDT' moves through enemy territory with the speed, weight, brains and grace of a Pro Bowl NFL linebacker; it's the Lawrence Taylor of war-ops movies," he wrote in Time.
This awards season, Bigelow and screenwriter Mark Boal have been in the middle of a political firestorm because of the film's depiction of extreme interrogation tactics, particularly a scene showing an Al Qaeda associate being waterboarded. While politicians debate how big of a role torture played in locating bin Laden, the Washington Post's Ann Hornaday said the sequence unequivocally establishes Bigelow's "command presence as a filmmaker."
"Within a few scant minutes," she added, "Bigelow signals that she will not turn away from the most unsavory aspects of the history she's chronicling and that she will lead viewers through a gnarly, complicated story with authority, flinty composure, keen storytelling instincts and unmatched technical chops."
Variety said: "Far more ambitious than 'The Hurt Locker,' yet nowhere near so tripwire-tense, this procedure-driven, decade-spanning docudrama nevertheless rivets for most of its running time by focusing on how one female CIA agent with a far-out hunch was instrumental in bringing down America's most wanted fugitive." — Peter Debruge
Eye on the Oscars 2013: Best Picture
Are directors behind punishing run times? | The upset that wasn't an upset: 'Shakespeare in Love'
Critics praise, punch nominees
Pointed critiques accompany plaudits for the contenders, giving voters plenty to chew on
"Amour" | "Argo" | "Beasts of the Southern Wild" | "Django Unchained" | "Les Miserables" | "Life of Pi" | "Lincoln" | "Silver Linings Playbook" | "Zero Dark Thirty"