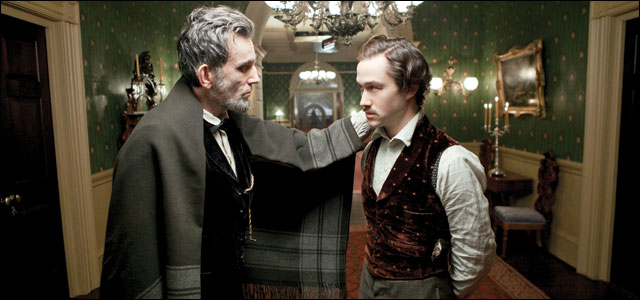 From tense scenes in the House of Representatives to the former president's high-pitched parables, Steven Spielberg's "Lincoln" has been lauded for its histrionics, precision and balance of both.
Many agree the pic couldn't have come at a better time, amid a U.S. political climate that has featured both aisles staunchly divided on items such as the fiscal cliff, health care and gun control. Scribe Tony Kushner said he penned the biopic upset with today's lack of faith in governance, wanting to tell a story that showed "you can achieve miraculous, beautiful things through the democratic system."
"Lincoln," wrote Los Angeles Times journo Kenneth Turan, is "a lesson that couldn't be more timely, or more thoroughly dramatic."
Crix appreciated "Lincoln" for steering away from the broad brush strokes that tend to muddy extensive biographical works, focusing instead on the pivotal four months leading up to the 16th president's death — months that included the close of the Civil War and the hook-and-crook passage of the slavery-abolishing 13th Amendment.
One place where some critics didn't see eye-to-eye was with regard to the amount of action — or lack thereof.
"Instead of concentrating on Lincoln and the war that divided a nation, the movie stays off the battlefield and focuses on the internecine shenanigans behind closed doors on Capitol Hill — the House debate, the ranting and shouting, the insults in both aisles of Congress, the arguments defending and denouncing blacks," wrote the New York Observer's Rex Reed. "Instead of action, we get intellectual ideas set forth while storming around conference tables behind the scenes of history."
Variety said: "Abraham Lincoln may not technically be the subject of Steven Spielberg's "Lincoln," but Daniel Day-Lewis is inarguably its star, delivering an unimpeachable performance as the United States' 16th president in a shrewd, stately and somewhat stuffy drama focused on a narrow yet defining chapter of Lincoln's life: abolishing slavery via the passage of a constitutional amendment." – — Peter Debruge
Eye on the Oscars 2013: Best Picture
Are directors behind punishing run times? | The upset that wasn't an upset: 'Shakespeare in Love'
Critics praise, punch nominees
Pointed critiques accompany plaudits for the contenders, giving voters plenty to chew on
"Amour" | "Argo" | "Beasts of the Southern Wild" | "Django Unchained" | "Les Miserables" | "Life of Pi" | "Lincoln" | "Silver Linings Playbook" | "Zero Dark Thirty"