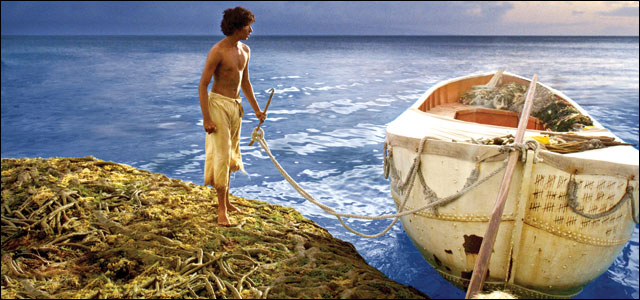 The tale of a young man, a tiger and God, Yann Martel's bestselling novel "Life of Pi" had been dubbed "unfilmable" countless times before Ang Lee's adaptation screened. The Oscar-winning helmer handily silenced skeptics, delivering a pic praised by critics as a remarkable visual achievement.
Several reviewers felt compelled to catalog the stunning images of the survival parable, acknowledging the stellar work by the visual effects team and cinematographer Claudio Miranda. Joe Morgenstern of the Wall Street Journal fondly recalled, among other memorable sights, "a whale breaching in the night, immensely phosphorescent."
But perhaps the most reverential praise was reserved for the lifelike computer-generated imagery of Richard Parker, Pi's Bengal tiger companion. Not particularly enthusiastic about the film, A.O. Scott of the New York Times still described the physical details of the beast as "so perfectly rendered that you will swear that Richard Parker is real."
The 3D also drew special attention, including favorable comparisons to James Cameron's stereoscopic milestone "Avatar." Even the Chicago Sun-Times' Roger Ebert, a vocal skeptic of the technology, praised Lee's use of the cinematic tool.
"What astonishes me is how much I love the use of 3D in 'Life of Pi,' " Ebert wrote. "Although I continue to have doubts about it in general, Lee never uses it for surprises or sensations, but only to deepen the film's sense of places and events."
The visual pleasures of the film might have been universally praised, but critics were less in sync about the film's framing device, featuring adult Pi (Irrfan Khan) telling his story to a writer (Rafe Spall) decades later. Betsy Sharkey of the Los Angeles Times referred to their conversations as the "weakest link" in an "otherwise lyrical film."
However, other writers were more focused on how these scenes establish a deeper, existential twist for the visual feast. While David Edelstein of New York Magazine described the scenes as "clunky," he suggested that they pay off.
"The movie has a sting in its tail that puts what you've seen in a startlingly harsh context," Edelstein wrote.
Variety said: "Summoning the most advanced digital-filmmaking technology to deliver the most old-fashioned kind of audience satisfaction, this exquisitely beautiful adaptation of Yann Martel's castaway saga has a sui generis quality that's never less than beguiling, even if its fable-like construction and impeccable artistry come up a bit short in terms of truly gripping, elemental drama." — Justin Chang
Eye on the Oscars 2013: Best Picture
Are directors behind punishing run times? | The upset that wasn't an upset: 'Shakespeare in Love'
Critics praise, punch nominees
Pointed critiques accompany plaudits for the contenders, giving voters plenty to chew on
"Amour" | "Argo" | "Beasts of the Southern Wild" | "Django Unchained" | "Les Miserables" | "Life of Pi" | "Lincoln" | "Silver Linings Playbook" | "Zero Dark Thirty"