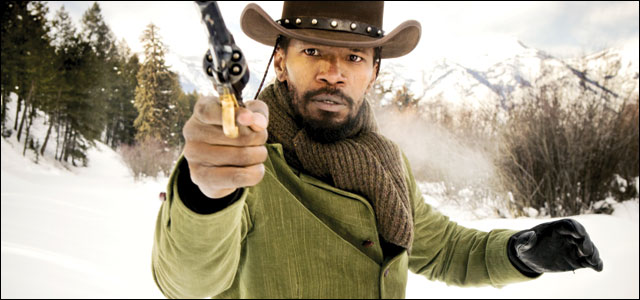 Writer-helmer Quentin Tarantino has always been a crix favorite. Each of his six previous feature-length directorial efforts garnered approval from at least 84% of critics, according to the reviews surveyed by Rotten Tomatoes. His latest genre-bending blood fest, "Django Unchained," continues the streak of widespread acclaim.
For critics, Tarantino's slave-liberating epic invited references to 2009's "Inglourious Basterds." After all, both boast titles alluding to Italian action films and play with history as freely as they play with genre, allowing the oppressed to enact vengeance on the oppressor. These comparisons were favorable, with Marc Mohan of the Portland Oregonian writing that "Django" is "not quite as inspired as 'Basterds'" but "close enough to make no difference."
Christoph Waltz, Leonardo DiCaprio and Samuel L. Jackson received a great deal of positive attention for their supporting work. Lead Jamie Foxx was often overlooked for his more subtle performance, but writing for NPR, Stephanie Zacharek said Foxx is "terrific precisely because he's so unflashy."
Still, Waltz was the MVP in many eyes for his turn as the eloquent bounty hunter Dr. King Schultz.
"Theoretically supporting Foxx in the title role, Waltz doesn't steal the picture," wrote Richard Corliss of Time. "He's handed it and handles the opportunity with effortless craft."
Critics were split on the film's 165-minute running time, with some citing the length as exhausting and others finding it generous. Michael Phillips of the Chicago Tribune suggested Tarantino is "a lousy self-editor" who "struggles with pacing and excess and detours." At the other end of the spectrum, Mick LaSalle of the San Francisco Chronicle proclaimed the movie "shouldn't be a minute shorter."
While the debate over the movie's take on slavery might be contentious in some circles, most film critics stepped up to defend this aspect of Tarantino's latest. A.O. Scott of the New York Times argued "Django" is characterized by "moral disgust with slavery" and "instinctive sympathy for the underdog."
Variety said: "The film pays breathtaking respect not just to Tarantino's many cinematic influences, but to the country itself, envisioning a way out of the slavery mess it depicts. In sheer formal terms, 'Django Unchained' is rich enough to reward multiple viewings, while thematics will make this thorny 'southern' — as the director aptly dubs it — perhaps his most closely studied work."
Eye on the Oscars 2013: Best Picture
Are directors behind punishing run times? | The upset that wasn't an upset: 'Shakespeare in Love'
Critics praise, punch nominees
Pointed critiques accompany plaudits for the contenders, giving voters plenty to chew on
"Amour" | "Argo" | "Beasts of the Southern Wild" | "Django Unchained" | "Les Miserables" | "Life of Pi" | "Lincoln" | "Silver Linings Playbook" | "Zero Dark Thirty"