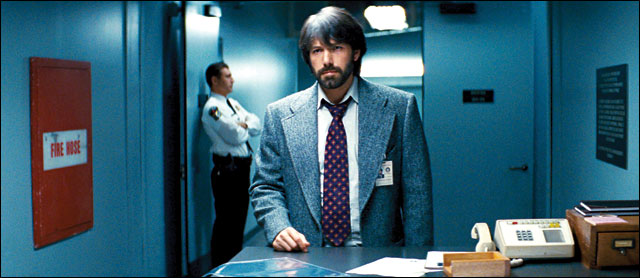 While "Argo" tells the story of a CIA operation to sneak six American diplomats out of Iran during the 1979 hostage crisis by making a fake sci-fi film, the praise that critics showered on the political drama was real.
Many considered it one of the best movies of the year, and singled out Ben Affleck's canny ability as a filmmaker to walk the tightrope between suspenseful spy thriller and Hollywood satire. It's "the rare nail-biter that's also riotously funny as it focuses on a real-life incident," according to USA Today's Claudia Puig.
" 'Argo' emerges as a cohesive and constantly engaging whole, the kind of smart escapism that so often eludes a fatigued movie industry," wrote Chris Vognar of the Dallas Morning News.
Affleck's attention to making the small details believable caught the eye of several critics, including Peter Howell at the Toronto Star. "The disco-era clothes, haircuts and glasses are all authentically awful, and for once the soundtrack tunes aren't woefully anachronistic," Howell wrote. "Even the font used for the 'Argo' title is era appropriate."
The pic's Oscar-nominated script, by Chris Terrio, was singled out by Randy Myers of the San Jose Mercury News for its "crackling, memorable dialogue" and also by Joe Morgenstern of the Wall Street Journal. "'Argo' is a movie about storytelling that tells its own story briskly and clearly; there's very little fat on the narrative bones," Morgenstern wrote.
Of the nine nominees for best picture, "Argo" scored the highest among the critics — 96% "fresh" — who were surveyed by the website Rotten Tomatoes.
Newsday's Rafer Guzman noted that the movie favors plot over character development, but still considered it "a well-told story that's timely, topical and thoroughly entertaining."
Roger Ebert also enjoyed the journey. "Affleck is brilliant at choreographing the step-by-step risks that the team takes in exiting Tehran," Ebert said, "and 'Argo' has cliff-hanging moments when the whole delicate plan seems likely to split at the seams."
Variety said: " 'Argo' is the gripping story of how Hollywood helped save the day. White-knuckle tense and less self-congratulatory than it sounds, Ben Affleck's unexpectedly comedic third feature has the vital elements to delight adult auds." — Peter Debruge
Eye on the Oscars 2013: Best Picture
Are directors behind punishing run times? | The upset that wasn't an upset: 'Shakespeare in Love'
Critics praise, punch nominees
Pointed critiques accompany plaudits for the contenders, giving voters plenty to chew on
"Amour" | "Argo" | "Beasts of the Southern Wild" | "Django Unchained" | "Les Miserables" | "Life of Pi" | "Lincoln" | "Silver Linings Playbook" | "Zero Dark Thirty"