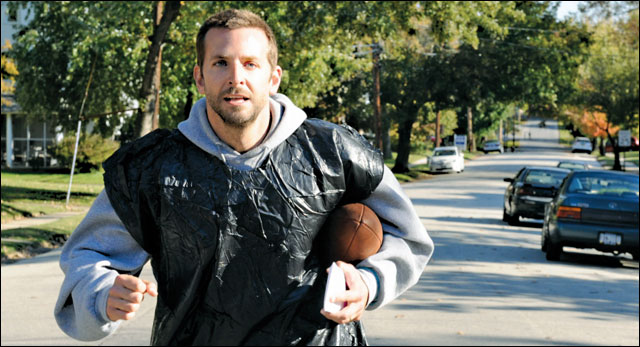 Pennsylvania inspires fondness in its native sons and daughters. Director Stephen Chbosky had more than one reason for wanting to shoot the bigscreen adaptation of his novel "The Perks of Being a Wallflower" in his hometown of Pittsburgh. First, that's where its story is set. But in addition, he was pulled home by a memory from his youth. In 1985, while still a teenager, Chbosky caught a segment on local TV about how fellow Pittsburgh native Michael Keaton helped bring the Ron Howard-directed comedy "Gung Ho," in which he starred, to the city.
"I remember watching on the news how it brought millions of dollars with it and it really helped Pittsburgh out," Chbosky says. "I got it stuck in my head that if I ever got to make a big movie I'd bring it home."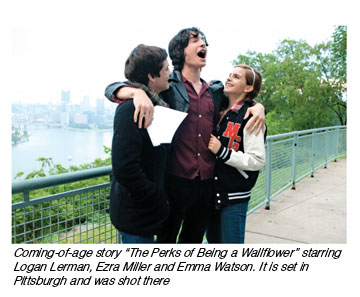 So Chbosky gave back with "Perks" during its June and July 2011 shoot. As he did so, the film was also getting something from Pennsylvania — a 25% transferable tax credit (an extra 5% is granted if a project shoots on a qualified soundstage).
Since enacting its current incentive in 2007 Pennsylvania has attracted a slew of high-profile productions, including the upcoming NBC series "Do No Harm" and such recent releases as "Promised Land," starring Matt Damon; The Oscar-nommed "Silver Linings Playbook," starring Philadelphia native Bradley Cooper; "Jack Reacher," starring Tom Cruise; the upcoming Relativity Media films "Out of the Furnace," starring Christian Bale; and "Paranoia," starring Liam Hemsworth and Harrison Ford.
But producers don't just come for the tax credit. They're also drawn by the wide variety of looks the commonwealth offers, from the historic colonial homes and cityscapes of Philly (which frequently doubles for New York City, Washington, D.C., and other urban centers) to the rolling hills, middle American suburbs and factories of the Pittsburgh area. "The Dark Knight Rises" spent three weeks in Pittsburgh in summer 2011 shooting various locations (Heinz Field, Carnegie Mellon U. and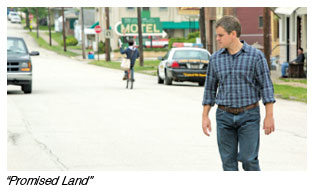 others) as parts of the fictional Gotham, despite the film not qualifying for the incentive because rules require that productions spend at least 60% of their budget in Pennsylvania.
"We can double for anything, as long as you don't require a beach or a desert," says Dawn Keezer, director of the Pittsburgh Film Office. "But, of course, we have Lake Erie about two and a half hours away, which is what they used for the (2009) film 'The Road' with Viggo Mortensen," part of which takes place in a coastal area.
Versatility is nice, but "Silver Linings Playbook" came to get authentic local flavor — in this case from Philadelphia, home to the NFL's Eagles. Both city and team are central to the story.
"When you're in L.A. and New York, a lot of times neighbors and business owners look at (film shoots) as a big pain in the butt," says the film's producer Bruce Cohen. In Philadelphia "people were really excited to have us there. On the street where we shot Pat's (Cooper's) house, we got to know all the neighbors and they'd invite us over to their homes for dinner after the shoot."
Much of "Silver Linings Playbook" shot in adjacent to Philly in Delaware County, including scenes at the Llanerch Diner in Upper Darby and homes in Ridley Park and Havertown.
"The whole region is getting advertising and PR that you couldn't pay for," says Tore Fiore, executive director of Brandywine Conference & Visitors Bureau, which promotes tourism in Delaware County.
"When you have the costume designer of 'After Earth' staying at the Hamanassett Bed & Breakfast for six months or Jennifer Aniston staying at the Staybridge Suites when they were shooting 'Marley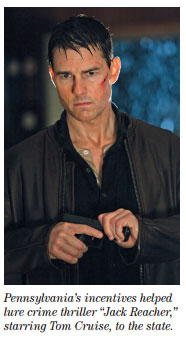 & Me,' that's a nice little deal for Delaware County," Fiore says.
Residents are likely to get a bit more blase if productions continue to flow into Pennsylvania at the current rate. Since 2007, the commonwealth has approved tax credits for 293 productions, which injected approximately $1.4 billion into its economy, according to Steve Kratz, press secretary for the Pennsylvania Department of Community and Economic Development. In 2010-11 fiscal year alone, $334 million was spent on production, creating a little over 2,100 full-time jobs.
"We've increased every single year, and it looks like we're at half a billion dollars (in production) for the Philadelphia region in the last six months," says Sharon Pinkenson, executive director of the Greater Philadelphia Film Office.
One competitive advantage Pennsylvania has is that it's one of the few states (in addition to Georgia and Louisiana) where the tax credit applies to above-the-line salaries, with a $15 million per-project cap on total compensation paid to principal actors.
But Pennsylvania also has a shortcoming — a $60 million annual cap on the incentive program, which only leaves room for a handful of big films each year. "I've talked to numerous producers that were considering bringing very large-budget movies to Philadelphia instead of New York because of that above-the-line aspect, and the only reason they didn't go is there's not enough money," says Joseph Chianese, VP of business development and production incentives planning for Entertainment Partners.
In an effort to attract more TV shows, which like to be able to make multi-year commitments to a location, the legislature changed the rules in 2012 to allow the film office to approve productions for 30% percent of the next fiscal year's incentive budget and 20% and 10%, respectively, of the two following years.
Plus, the Pennsylvania production community is now trying to persuade the Legislature to up the program's annual budget to $100 million or $150 million.
"We need more money in the program," says Keezer. "More money in the program fixes everything."
Scout & About: Pennsylvania 2013
Winning time for tax-breaks team | Incentives inspire growth of studios and crew | Key players from the Keystone state