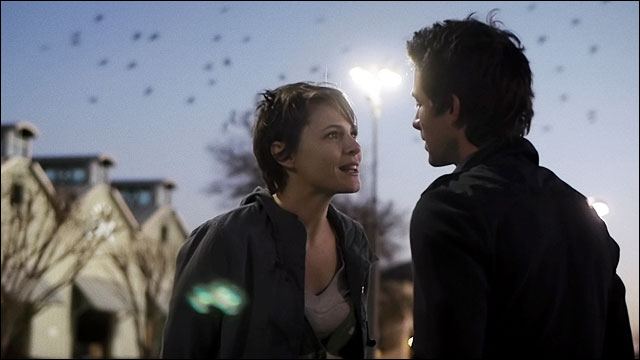 When director Shane Carruth ("Primer") was casting his sophomore feature "Upstream Color," it was his editor David Lowery, the director of fellow Sundance pic "Ain't Them Bodies Saints," who suggested Amy Seimetz for the lead.
Lowery had known the actress for a long time, having worked on several projects together including this year's Sundance entry "Pit Stop," which he co-wrote with director Yen Tan.
Though Seimetz was flattered by the interest, she initially turned Carruth down because she was editing her own movie, "Sun Don't Shine," which she also wrote, produced and directed.
"I showed Shane a cut of my film and I guess he liked it because he offered me the part. I didn't have to audition for it," said Seimetz, who like many of those who saw it at Sundance, struggles to describe "Upstream Color." "Even if I wanted to go deeper into it, it's a film you have to see in order to really understand. My character has undergone something very traumatic at the beginning and it's about piecing together what happened over the rest of the narrative. It's abstract, but also rich with emotion."
"Pit Stop" is a little easier for the actress to wrap her head around. "In that movie, I live in a small town in Texas and my husband comes out of the closet. I'm trying to be friends with him for the sake of our child and be understanding, but I'm still in love with him," explained Seimetz, who also has a short film titled "Postmodem" screening at Sundance.
Though she declined to choose a favorite among the three projects making the rounds in Park City, Seimetz singled out Carruth for being an uncompromising filmmaker who dares to take narrative risks.
"I've never seen anything like the movies Shane has made. There's nothing comparable. It is his vision. He has this magnificent grasp on what a narrative is. It isn't straightforward, but the most brilliant filmmakers don't need to do a paint-by-numbers movie. We get along really well and I responded to the material on an emotional level. He has a very lyrical and technical approach to everything as well as a clear understanding of the heart of the story and what makes the whole thing tick. The working experience was unlike anything I've ever done," gushed Seimetz, who's proud to have a festival like Sundance championing her work.
"Most of the films I've done are very handmade and auteur-oriented. They're small, so when it's a very intimate experience with a small crew and not much money, it's very exciting to have a platform like Sundance that people pay attention to. Even if it's not the most buzzed-about festival, the reach they have is so vast. When something so small goes up against giant films, the movie stands alone and it doesn't matter what your budget is."
However, if there's one thing that frustrates Seimetz about Sundance, it's "the crazy hype machine," which she acknowledges is ironic considering she has agreed to be interviewed by Variety. "I don't really like it. It gets a little far from the heart of it all, but that's an ongoing discussion in the independent world. With the interactive portion of film festival, they expect filmmakers to be very gracious and thankful. You have to keep smiling and saying 'thank you.'"
That said, she's grateful that film festivals like Sundance and South By Southwest exist. "They're giving filmmakers so many opportunities. I think it's great."
Prior to the festival, thesp had planned to see Lowery's "Aint Them Bodies Saints" and "A Teacher," the latter of which was produced by her "Sun Don't Shine" producer Kim Sherman. "There are a bunch I'm excited to see, but I'm looking forward to making discoveries. I love to wander into something I don't know anything about."
While Seimetz said she's "very happy working in the independent space," her profile is due for a boost among the mainstream, as she co-stars on Christopher Guest's upcoming HBO series "Family Tree," which debuts in the spring. "I started in experimental film, so I've never looked at work as jumping from lily pad to lily pad in search of the [best] one. I just want to do good work and work with directors I respect. Big or small, I kind of want to do it all," said Seimetz.
"Upstream Color" screens in competition on Friday (6:00 p.m. at the Tower Theater in Salt Lake City) and Saturday (2:30 p.m. at the Library), while "Pit Stop" screens as part of the NEXT lineup on Friday (9:00 p.m. at Broadway Centre Cinema 6 in Salt Lake City) and Saturday (Holiday Village Cinema 4).
One in a series of profiles on filmmakers and talent from the Sundance Film Festival 2013.